Guidance - facilitation, ideation, etc
i
KM for me... and you? | Category Archive | *Facilitation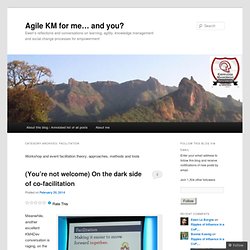 www.iaf-world.org/Libraries/Certification_documents/Competencies.sflb.ashx
www.theweave.info/images/TheWeave-V1-High-July2011.pdf
Wasafiri
The Rwanda Biomedical Centre (RBC) was established on 25 January 2011, following a merger of 14 organisations and agencies. Implementation of the merger was initiated in June 2011, with most of the senior leadership appointed in July of the same year. While the first few months post-integration proceeded smoothly, the complexity of the endeavour was considerable, with the fourteen merged organisations and agencies bringing with them a diversity of mind-sets, cultures, systems, values and processes.
Turns out that brainstorming--that go-to approach to generating new ideas since the 1940s--isn't the golden ticket to innovation after all. Both Jonah Lehrer, in a recent article in The New Yorker , and Susan Cain, in her new book Quiet , have asserted as much. Science shows that brainstorms can activate a neurological fear of rejection and that groups are not necessarily more creative than individuals.
Wicked Problems: Problems Worth Solving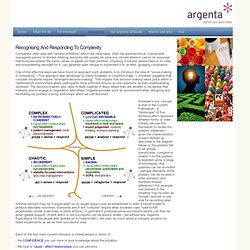 Cynefin - Recognising and Responding to Complexity
Companies often deal with "wicked problems" which are intractable, often because technical, cultural and managerial opinion is divided.
The ills of poor event design and facilitation
i 2 Votes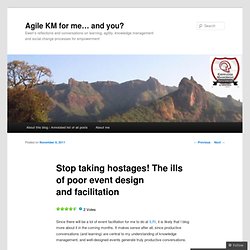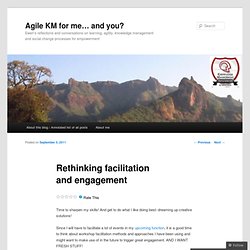 Rethinking facilitation and engagement
i
The chemistry of magical facilitation (1) – mind the BOSSY HERALD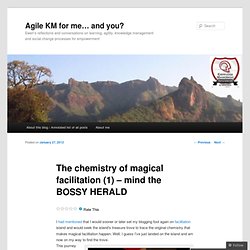 i Rate This
i
Facilitation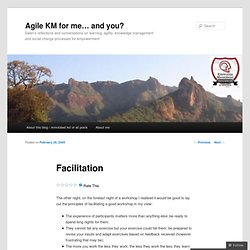 Signs that the workshop could have been better prepared: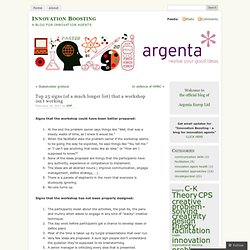 Top 25 signs that a workshop isn't working
Should a Facilitator be Independant or act as a Consultant? Here are my views. I'd be interetested in yours.
The chemistry of magical facilitation (2) – Put the bossy herald to play for you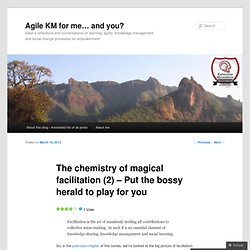 i 1 Vote Facilitation is the art of seamlessly inviting all contributions to collective sense-making.
10 principles of innovation
harmony v.s stimulation - ideation - journal paper
Options for accessing this content:
FACTORS THAT ENHANCE AND INHIBIT CREATIVITY IN BRAINSTORMING GROUPS - journal paper