Tryin' for beauty
Beauty Tips for Sparkling Eyes. Nisha In order to get rid of old, dusty and tired eyes, we bring you helpful tips that can help you have beautiful sparkling eyes, in no time at all!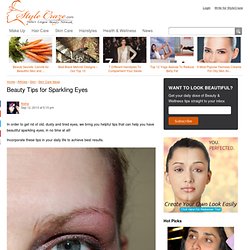 Incorporate these tips in your daily life to achieve best results. Tips for Sparkling Eyes with Home Remedies: Place tea bags (chamomile preferably) in a bowl of ice water for a few minutes, put them over your eyes and relax until they become warm. DIY - MAKE YOUR OWN WAX FOR HAIR REMOVAL | Fashion - Yahoo! Shine. I was chatting with someone on my flight back from my vacation.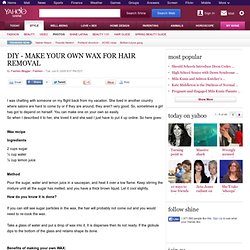 She lived in another country where salons are hard to come by or if they are around, they aren't very good. So, sometimes a girl has got to depend on herself. Out of the ordinary Beauty Tips that work | Cher Cabulas Mindbox. Use toothpaste on yellow nails.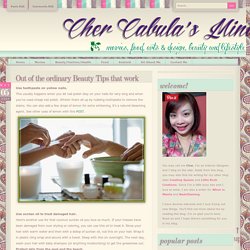 This usually happens when you let nail polish stay on your nails for very long and when you've used cheap nail polish. Whiten them all up by rubbing toothpaste to remove the stains. You can also add a few drops of lemon for extra whitening, it's a natural bleaching agent. See other uses of lemon with this POST. Use suntan oil to treat damaged hair. HAIR COLOR HOW TO: Hair Chalking.
Get ready to paint the town, I mean, your hair red....green, hot pink, or any color you like.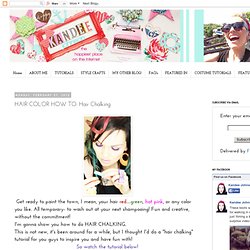 All temporary- to wash out at your next shampooing! Fun and creative, without the commitment! I'm gonna show you how to do HAIR CHALKING. How to: pore strips. You know those Biore pore strips you buy at the drugstore for about $12 a pop? Yeah, those. Today I'm going to teach you how to make your own homemade pore strips. Homemade Hair Treatments - At Home DIY Hair Treatments - Womans Day. Eggs, yogurt and honey are, at first glance, all components of a tasty breakfast—but they also happen to be hair treatment ingredients, and affordable, all-natural ones at that.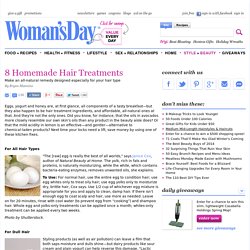 And they're not the only ones. Did you know, for instance, that the oils in avocados more closely resemble our own skin's oils than any product in the beauty aisle does?
---