Tron Legacy 2010
Autour de TRON
TRON 3. Tron: Legacy Explained Or What Newcomers Need To Know Before They Go. Greetings programs!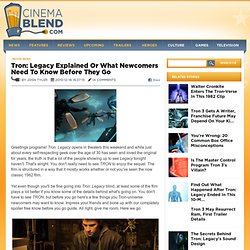 Tron: Legacy opens in theaters this weekend and while just about every self-respecting geek over the age of 30 has seen and loved the original for years, the truth is that a lot of the people showing up to see Legacy tonight haven't. That's alright. You don't really need to see TRON to enjoy the sequel. The film is structured in a way that it mostly works whether or not you've seen the now classic 1982 film.
Box Office. ArtWorks. Official. Official Trailers. TRoN Legacy - The Next Day. Joseph Kosinski. Un article de Wikipédia, l'encyclopédie libre.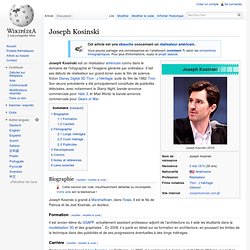 Joseph Kosinski Joseph Kosinski (2010) Joseph Kosinski est un réalisateur américain connu dans le domaine de l'infographie et l'imagerie générée par ordinateur. Il fait ses débuts de réalisateur sur grand écran avec le film de science-fiction Disney Digital 3D Tron : L'Héritage, suite du film de 1982 Tron. Son œuvre précédente a été principalement constituée de publicités télévisées, avec notamment la Starry Night, bande-annonce commerciale pour Halo 3, et Mad World, la bande-annonce commerciale pour Gears of War. Joseph Kosinski. TRON: Legacy (2010) Edit Storyline Sam Flynn, the tech-savvy 27-year-old son of Kevin Flynn, looks into his father's disappearance and finds himself pulled into the same world of fierce programs and gladiatorial games where his father has been living for 20 years.
Interview
Tron Legacy Events. Tron Legacy | Eklecty-City. Parody. Music. Making of FX. Reviews.
---