Trends 2011
Heidi Cohen | January 10, 2011 | 23 Comments inShare316 Shovel and Twitter in hand during the post-Christmas Snowpocalypse, Newark Mayor Cory Booker showed that 2011 will be about being connected, showing up, and responding to customers' needs. Like Mayor Booker, online marketers will require more than social media marketing.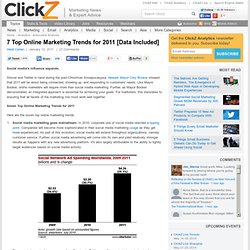 10 Marketing Trends for 2011
Growing numbers of consumers can no longer escape an awareness of the damage done by their consumption: to the planet, society, or themselves. But a mixture of indulgence, addiction and conditioning mean that most can't substantially change their consumption habits. The result? A never-ending guilt spiral. Which creates exciting opportunities for brands that combine tackling this guilt spiral with consumers' endless status seeking (still the driving force behind all consumer behavior). Indeed, GUILT-FREE STATUS will be the ultimate indulgence in 2014.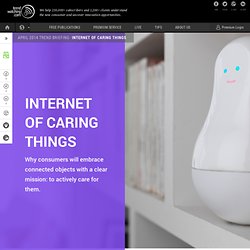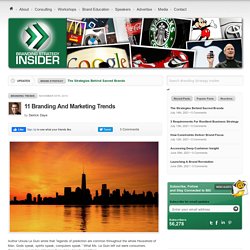 11 Branding And Marketing Trends For 2011
Author Ursula Le Guin wrote that "legends of prediction are common throughout the whole Household of Man. Gods speak, spirits speak, computers speak."