Treemap
Nicolas Barradeau (nicoptere) sur Twitter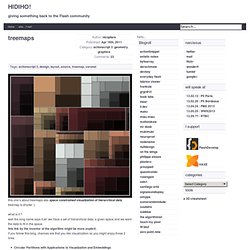 treemaps « HIDIHO!
this one's about treemaps aka space constrained visualization of hierarchical data. treemap is shorter :) what is it ?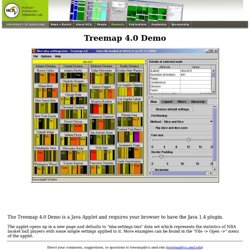 The Treemap 4.0 Demo is a Java Applet and requires your browser to have the Java 1.4 plugin.
Treemap 4.0 Demo
Overview A visual representation of a data tree, where each node can have zero or more children, and one parent (except for the root, which has no parents). Each node is displayed as a rectangle, sized and colored according to values that you assign. Sizes and colors are valued relative to all other nodes in the graph.
Visualization: Treemap - Google Chart Tools - Google Code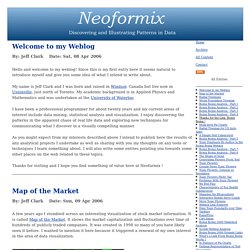 By: Jeff Clark Date: Sat, 08 Apr 2006 Hello and welcome to my weblog!
Discovering and Illustrating Patterns in Data
Squarified Treemaps with source !! | code zen
Treemaps (sometimes called heatmaps) are one of my favorite data visualization techniques, and it has taken me a while to finally figure out how to do them. The idea is simple: Each component is represented by a rectangle whose area is proportional to the 'weight' or relative importance of the item. I finally did find a technical paper on the idea and have implemented it in my source code. The algorithm efficiently finds what the best dimensions should be for the rectangle keeping its length-to-width ratio as close to one as possible.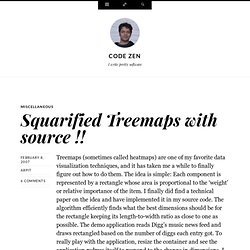 src/com/arpitonline at master from arpit/treemaps - GitHub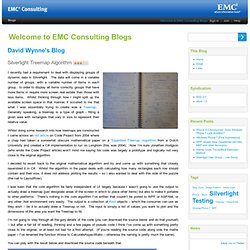 David Wynne's Blog : Silverlight Treemap Algorithm
I recently had a requirement to deal with displaying groups of dynamic data in Silverlight. The data will come in a variable number of groups, with a variable number of items in each group.