Travel 7
Travel. Italy magazine. Wild Junket. JUST TRAVELOUS | follow me on my way to travelosity. The Vacation Gals. Adventure holidays | Adventure travel | Activity holidays. Some Sojourns | Some notes on life's journeys. A Wandering Sole. Live travel blog. Round-the-World Travel Blog | Inspiration. Lasaventurasdesara. The Amazing Adventures of Kate and Bear. 127 days.
Two Worlds Colliding: Barcelona and America. Do it while you're young. Travel (cgittings StumbleUpon) Full body scanner. Backscatter x-ray image of TSA Security Laboratory Director Susan Hallowell A full-body scanner is a device that detects objects on a person's body for security screening purposes, without physically removing clothes or making physical contact.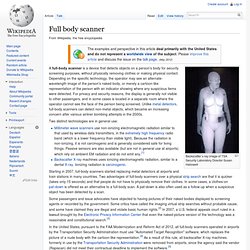 Depending on the specific technology, the operator may see an alternate-wavelength image of the person's naked body, or merely a cartoon-like representation of the person with an indicator showing where any suspicious items were detected. For privacy and security reasons, the display is generally not visible to other passengers, and in some cases is located in a separate room where the operator cannot see the face of the person being screened. The cheapest destinations blog. My travel map. I'm going to Germany. Peru en route. I Heart Mondegreens. Globe trekker blog. "Globe Trekker," shown in the U.S. on PBS, is my favourite travel show because it focuses on real travellers experiencing slices of local cultures, not sightseeing.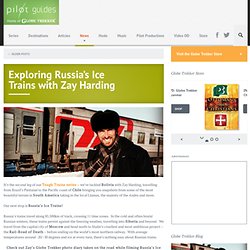 McCormick is my kind of traveller. Her enthusiasm for the places she visits is infectious and you can't help but conclude that she'd be a fun person to travel with. She got the travel bug in college and has found a way to make a living out of her wanderlust. Globe trekker videos (youtube) Globe trekker. Globe Trekker transports viewers to unforgettable destinations through its stunning photography and spirit of adventure.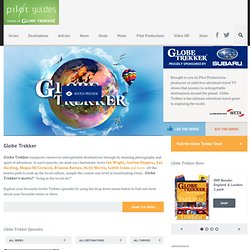 In each episode, we send our charismatic hosts Ian Wright, Justine Shapiro, Zay Harding, Megan McCormick, Brianna Barnes, Holly Morris, Judith Jones and more off the beaten path to soak up the local culture, sample the cuisine and revel in breathtaking vistas. Globe Trekker's motto? "living as the locals do!"
Explore your favourite Globe Trekker episodes by using the drop down menu below to find out more about your favourite series or show. Travel instructables. Explore. Travel blog. Best Eco Hotel Chains Not long ago, people who wanted to stay in an environmentally friendly hotel had to find their sleeping spot in an obscure, out of the way inns.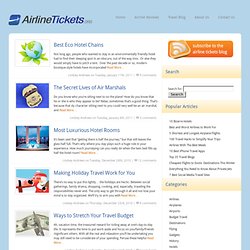 Or else they would simply have to pitch a tent. Over the past decade or so, modern boutique-style hotels have incorporated Read More… Travel lady. Journalist On The Run. Backpacking worldwide. Kaypacha travels. Skinny backpacker. I've spent much of the past two years moving in and out of Myanmar / Burma to see what makes the country tick.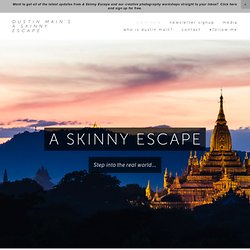 Having been separated from much of the world for decades thanks to a corrupt military regime and economic sanctions from much of the Western world, the country and its government have begun to open up more recently. The simplified version of this change that is portrayed in much of the media is just a thin slice of what's going on inside of the country. Jack and jill travel. Connvoyage. Backpacking matt. Wandering Earl. Everything everywhere. Have pack will travel.
Where is jenny. England, Days Out, Holidays in England, Travel Guides : Enjoy England. Travel on twitter. Sightseeing Places. Free Travel Review. Vacations. The Globe-Trekking Gecko. Recently I watched the movie 'Eat, Pray, Love', mainly for the fact that it features Bali, plus the other two places it covers – Italy and India, are another two destinations that I would love to go to (watch this space!).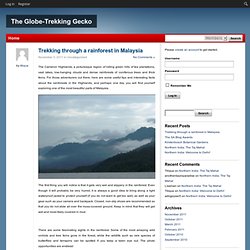 Watching the scenes in the movie that were in Bali took me straight back to that humidity, the overwhelming sights and sounds, and the fragrant smells of the incense. There is one scene where they feature an island, and I swear it's the same one that I went to when we went snorkelling in the coral reef. Of course, I could be totally wrong, but that experience of snorkelling there must be one of my favourite highlights of the trip. We were staying at a quiet seaside hotel in the Banyapoh region of Bali, along the north-western part of the island. It was one of my favourite places to stay because at night the whole place was over-run by geckos!
Travel Planning Tools. AdventureBimbling Travel Guides. Adventure Bimbling. Meet Us In Munich! Another Flight Attendant Writing.
---