Places
Tweet Tweet Once a year some of the countries around the world hold magical and outrageous festivals. Some like the Brazilian carnival and Spanish bull chase are famous world wide while others few people know about. So if you fancy living it up then check out our list of 20 of the most amazing festivals from around the world that we recommend you should see before you die. 1.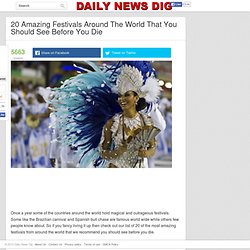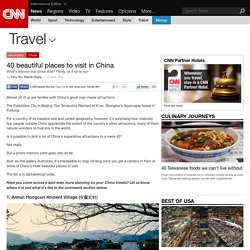 Almost all of us are familiar with China's great man-made attractions. The Forbidden City in Beijing. The Terracotta Warriors of Xi'an. Shanghai's skyscraper forest in Pudong. For a country of its massive size and varied geography, however, it's surprising how relatively few people outside China appreciate the extent of the country's other attractions, many of them natural wonders to rival any in the world.
Most beautiful places in China
For years Eastern Europe was the undiscovered half of the continent - but things have changed. The diverse highlights of Eastern Europe are now drawing travellers by the trainload. Here are our top 10 Eastern European getaways.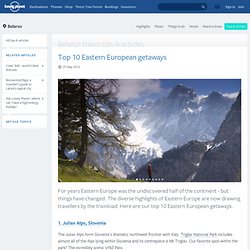 Top 10 Eastern European getaways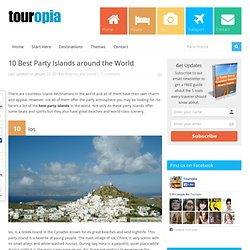 10 Best Party Islands around the World
There are countless island destinations in the world and all of them have their own charm and appeal. However, not all of them offer the party atmosphere you may be looking for. So here's a list of the best party islands in the world. Not only do these party islands offer some beats and spirits but they also have great beaches and world-class scenery. 10Ios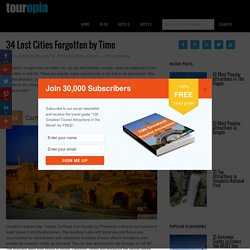 It's hard to imagine how an entire city can get lost but that's exactly what has happened to the lost cities on this list. There are actually many reasons why a city has to be abandoned. War, natural disasters, climate change and the loss of important trading partners to name a few.
6,000 people can enjoy the 'sun' - and without a cloud in sight thanks to the roofThe Tropical Island Resort in Krausnick also contains a 50,000-plant forest - and room to fly a hot air balloon By Eddie Wrenn Published: 10:23 GMT, 23 November 2012 | Updated: 19:41 GMT, 23 November 2012 It is the world's largest indoor beach with 400 sunloungers - and not a cloud in sight. Yet with up to 6,000 visitors allowed in at a time, there are bound to be towel-fights over them – especially as this 'indoors paradise' is in Germany.
The world's largest indoor beach in the German countryside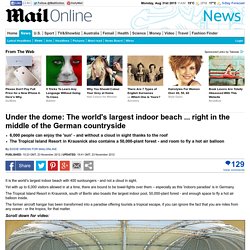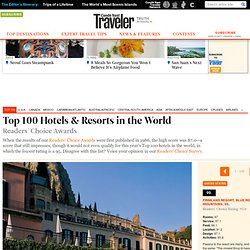 Rooms: 100Service: 96.8Food: 96.8Location: 100Design: 100 A triptych of perfect scores for rooms, location, and design make this "the place to fall in love again." The landmark, nineteenth-century hotel was updated in 2011 with obvious "pride and care" for its authentic, post-Sicilian Baroque décor.
Top 100 Hotels & Resorts in the World: 2011 Readers' Choice Awards from Condé Nast Traveler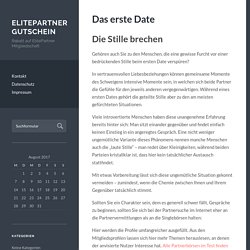 The Bible tells us that God created Adam and Eve just a few thousand years ago, by some fundamentalist interpretations. Science informs us that this is mere fiction and that man is a few million years old, and that civilization just tens of thousands of years old. Could it be, however, that conventional science is just as mistaken as the Bible stories?
Location /// Various Background: Occupying a mere 4.3 square feet, this "Swiss Army Knife Bathroom" takes space conservation to a whole new level, packing a toilet, sink, cistern, two storage units and two shower heads into one compact system. Why It's Unique: Named for its resemblance to the spinal cord, the bathroom's modules all connect to a central axis. Everything feeds from the top of the structure, which attaches to the ceiling. Users have the option of directing the waste pipes downward through a hole in the floor, or into the wall through a hole at the back of the toilet.
The World's 18 Strangest Bathrooms - Design and Architecture Bathrooms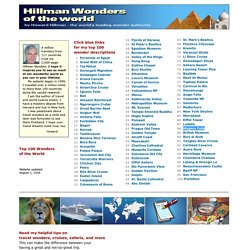 How many of the 100 Wonders of the World have you seen? Top 100 Wonder rankings Click blue links for my candid tips 1 Pyramids of Egypt 2 Great Wall of China
Amusement parks walk the fine line between fun-ish and semi-creepy. Maybe it's the combination of sketchy rides, circus folk, questionable attractions, and way too many screaming kids, but there's something a little unsettling about them. Add an ill-advised theme into the mix, and you've got a real summer-time winner.
Many strange archeological discoveries have been made in modern history. Hundreds of artifacts have been unearthed that have baffled scientists and challenged modern man's view of history. Many of these objects have been labeled out of place artifacts or anachronisms. These archeological discoveries are always controversial and the scientific community is extremely selective in what they accept as fact.
A micronation is a tiny, self-proclaimed sovereign state. Though they claim sovereignty and are often not interfered with by larger government entities, they are not recognized as official independent states (which sets them apart from microstates like The Vatican or Singapore.) There are any number of reasons someone may start a micronation: as a joke, as a form of art, for protest purposes, as a political or legal experiment, or even to conduct criminal activity.
7 Weird Micronations of the World