Travel
Frequent Flyer Travel Blogs. Cheapest Days to Fly and Best Time to Buy Airline Tickets. Shopping for air travel can be both confusing and frustrating — airline ticket prices change frequently (with seemingly no particular rhyme or reason).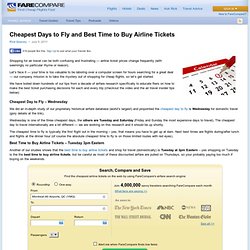 Let's face it — your time is too valuable to be laboring over a computer screen for hours searching for a great deal — our company mission is to take the mystery out of shopping for cheap flights, so let's get started. We have boiled down hundreds of our tips from a decade of airfare research specifically to educate fliers on how to make the best ticket purchasing decisions for each and every trip (checkout the video and the air travel insider tips below): Cheapest Day to Fly – Wednesday We did an in-depth study of our proprietary historical airfare database (world's largest) and pinpointed the cheapest day to fly is Wednesday for domestic travel (gory details at the link).
Wednesday is one of the three cheapest days, the others are Tuesday and Saturday (Friday and Sunday the most expensive days to travel). Priceline and Hotwire Forum. Survival/backpack. Tom Bihn. Hertz. JetBlue. Southwest. Red Oxx Hybrid Convertible Backpack Carry On Bag for Planes and Trains! (219 Reviews) By Jsr, Florida, March 20, 2014 Construction is impeccable, didn't see any flaws or stray and excessive material waste within the bag.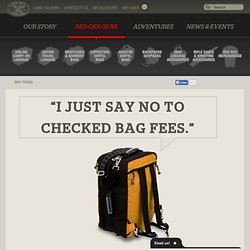 Big zippers, solid stitching along with the heavy duty clear tubing surrounding both grab handles are "choice".
---