Before you get there
YTO - REK - AMS - MUC - YTO : Multi-Stop International Airfare
Welcome Stumbled Upon & Delicious Users: You may also want to check out our 180+ Best Money Saving Tools. Traveling doesn't have to break the bank (in fact, you can travel for free), and there are plenty of places that'll help you find the best vacation for your budget. Get discounts and the insider scoop with these great resources. Don't forget to ask for free travel upgrades. (See also: 5 Essential Travel Tools) Cheap Flights and Accommodations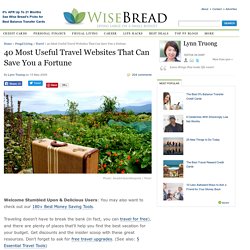 Our Man On The Ground is a unique travel advisory service, providing independent travel reviews for people who are passionate about travel. With 165 towns and cities in 50 countries, our focus is on 'local' and 'positive'. The goal of our team of over 50 men and women on the ground is to find and review those hidden gems. Whether you are looking for city highlights, a luxury hotel, villa or ski chalet review or a recommended restaurant, bar or pub - OMOTG is your perfect travel advisor.
Travel Advisor, Independent Reviews of Hotels, Restaurants, Cities, Bars, Pubs • Our Man On The Ground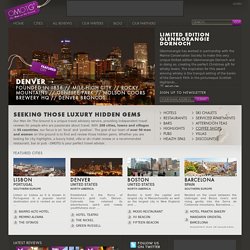 30 Places to Find Cheap Airline Tickets Thursday, December 20, 2007 at 7:06pm by admin Scoring a great deal on plane tickets is only one of the challenges air travelers face these days.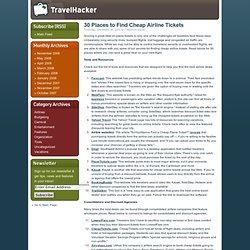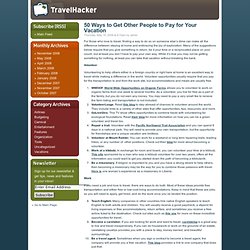 50 Ways to Get Other People to Pay for Your Vacation Thursday, May 15, 2008 at 6:33pm by admin For those who love to travel, finding a way to do so on someone else's dime can make all the difference between staying at home and embracing the joy of exploration. Many of the suggestions below require that you give something in return, be it your time or a reciprocated place on your couch, but at least you don't have to pay your own way. While it's true you may not be getting something for nothing, at least you can take that vacation without breaking the bank.
The worldwide hitchhikers agency: go hitchhike for a cheap or free holiday