Travel Guides, Reviews, Tips
Web-based travel guides, reviews and tips
Budget Travel - Frugal Traveler Blog. Hunting for the Best Carry-On Bag By SETH KUGEL In desperate need of a replacement for his aging, beat-up carry-on, the Frugal Traveler wheels, lifts and zips candidates until he finds a worthy successor.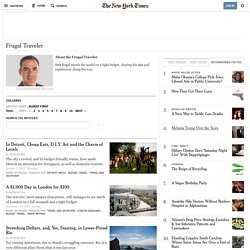 April 16, 2014, Wednesday A 10-Month Family Trip Around the World The Maurers have been everywhere from Asia to Africa on their adventure, sticking to a $150-a-day budget along the way.
Travel Magazines
Travel Guides, Hotel Reviews, Vacation Ideas, and Trip-Planning Tools at Concierge. Travel Guides. Travel Budget Tips. TripCart - Road Trip Planner. Travel Deals, Cheap Airfare, Vacation Deals, Car Rental, and Discount Travel. Dopplr | Travel planning, advice & tips for the smart traveller. AllTravelTips.com - Best Travel Tips, Travel Secrets Revealed. Free Travel Tips, Advice & Hints: 1000Tips4Trips.com. TripAdvisor - Reviews of Hotels, Flights and Vacation Rentals.
Travel News & Guide: USA TODAY Travel Network. Travel Kit from msnbc.com.
---