Berlin
A Berlin. Un guide de Berlin et un Blog
Quand la bise fait peler le berlinois, pur jus ou d'adoption, il a la possibilité de se protéger de la froidure. Hivers après hivers, il a appris à maîtriser l'usage du Mütze, et dispose de moult moufles On sait ce que fait le canard à cette période, l'ours même, mais quid de la fière monture sur la selle de laquelle nous parcourront le Brandebourg ou la Poméranie, je veux parler de notre vélo, de mon vélo, de ton vélo. Quid de lui? Doit il se peler? Non car le Berlinois est humain, attentif et par dessus tout, son vélo, il l'aime.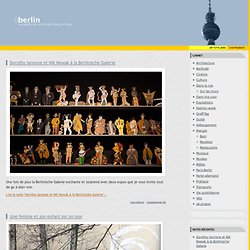 Durch Berlin
Vintage shopping in Berlin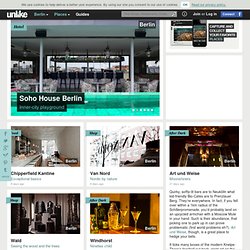 Since opening in 2011, Agora has become one of the bastions of creativity in Berlin. Housed in a freestanding, yellow-and-red-bricked Altbau, this café, restaurant, co-working space, artist studio and event location ends up as way more than the sum of its parts. With the German capital firmly established as one of the world's elite creative cities, here you can peek into the inner workings – the people and the projects – of a zeitgeist in the making. It's edgy, original, and inclusive without being 'oh-kumbaya'.
the definitive city guide for the mobile generation | berlin.unlike
COOKIES CREAM
THE CORNER BERLIN