Berlin
A Berlin. Un guide de Berlin et un Blog. Durch Berlin. Vintage shopping in Berlin. By Natasha Montrose Berlin is not the first capital city one thinks of when it comes to great shopping.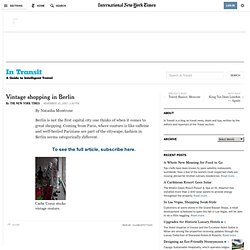 Coming from Paris, where couture is like caffeine and well-heeled Parisians are part of the cityscape, fashion in Berlin seems categorically different. Yet for those seeking something unique, the city is rich with second-hand and vintage shops, offering a huge range of styles that reflect the cultural changes Berlin went through during the twentieth century, from the decadent Weimar Republic to the turbulent reunification years. Prices vary widely – you can pick things up from as little as 5 euros up to 150 euros. Bartering is possible, depending on the shop. The definitive city guide for the mobile generation | berlin.unlike. Quirky, softly-lit bars are to Neukölln what kid-friendly Bio-Cafes are to Prenzlauer Berg.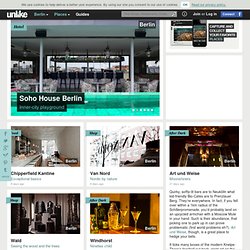 They're everywhere. In fact, if you fell over within a 1km radius of the Schillerpromenade, you'd probably land on an upcycled armchair with a Moscow Mule in your hand. Such is their abundance, that picking one to park up in can prove problematic (first world problems eh?). COOKIES CREAM. THE CORNER BERLIN.
---