Berlin
A Berlin. Un guide de Berlin et un Blog
Sa musique est multilinguale et multiculturele, mélangeant le soul latin de José Feliciano l'idéalisme exaltant de Marley et le hip-hop. C'est comme ça que Paco Mendoza se présente. Il ajoute qu'il est né en Argentine de parents péruviens et paraguayen, et il habite à Berlin. Il a sorti en avril dernier un CD coproduit avec DJ Vadim's et que je ne découvre qu'aujourd'hui : Lost Tape-EP. C'est exactement le son que j'avais envie d'entendre en ce moment oscillant entre le chill mal de Kreuzberg et le hip-hop solaire, il accompagne et réchauffe mes ballades dans la ville. Croyez moi achetez Lost Tape-EP, vous vivrez plus longtemps.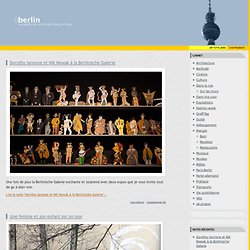 Durch Berlin
By Natasha Montrose Berlin is not the first capital city one thinks of when it comes to great shopping. Coming from Paris, where couture is like caffeine and well-heeled Parisians are part of the cityscape, fashion in Berlin seems categorically different. Yet for those seeking something unique, the city is rich with second-hand and vintage shops, offering a huge range of styles that reflect the cultural changes Berlin went through during the twentieth century, from the decadent Weimar Republic to the turbulent reunification years. Prices vary widely – you can pick things up from as little as 5 euros up to 150 euros. Bartering is possible, depending on the shop.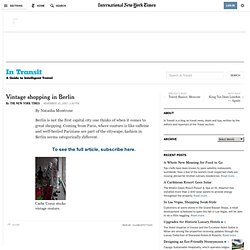 Vintage shopping in Berlin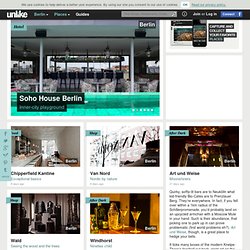 Since opening in 2011, Agora has become one of the bastions of creativity in Berlin. Housed in a freestanding, yellow-and-red-bricked Altbau, this café, restaurant, co-working space, artist studio and event location ends up as way more than the sum of its parts. With the German capital firmly established as one of the world's elite creative cities, here you can peek into the inner workings – the people and the projects – of a zeitgeist in the making. It's edgy, original, and inclusive without being 'oh-kumbaya'.
the definitive city guide for the mobile generation | berlin.unlike
COOKIES CREAM
THE CORNER BERLIN