Transports - Associations
Location de Voitures entre Particuliers. TED Committee Home Page. mCenter | The Mobilities Research and Policy Center. ITS International - The Leading Website and Magazine for Traffic Management and Urban Mobility. Transportation Research Board | Main. Cities for Mobility. 5th World Congress of Cities for Mobility successfully concluded Mayor of Stuttgart signs International Charta for Walking The 5th World Congress of Cities for Mobility, entitled "Urban Mobility and the Social Space Challenge", took place from July 3 to 5 in Stuttgart and gathered more than 350 participants from 40 countries world wide.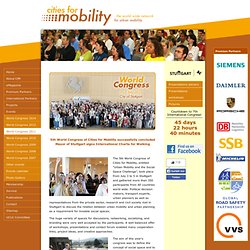 Political decision makers, transport experts, urban planners as well as representatives from the private sector, research and civil society met in Stuttgart to discuss the relation between urban mobility and urban planning as a requirement for liveable social spaces. The huge variety of spaces for discussions, networking, socializing, and branding were very well accepted by the participants. A well balanced offer of workshops, presentations and contact forum enabled many cooperation links, project ideas, and creative approaches.
---