Training and Talent Development
Most airplane difficulties occur at two critical points: take-off and landing. The same is often true of presentations.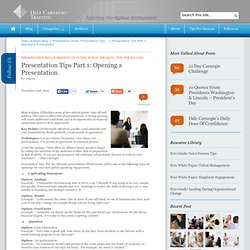 Presentation Tips Part 1: Opening a Presentation | Dale Carnegie Blog - Corporate Training, Leadership Training, and Sales Training from Dale Carnegie Training®
Presentation Tips Part 2: Closing a Presentation | Dale Carnegie Blog - Corporate Training, Leadership Training, and Sales Training from Dale Carnegie Training®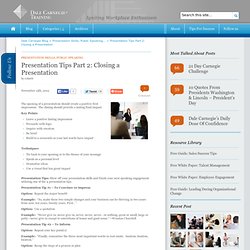 The opening of a presentation should create a positive first impression. The closing should provide a lasting final impact.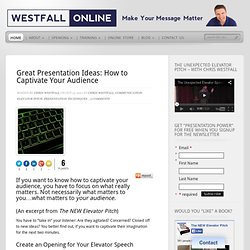 If you want to know how to captivate your audience, you have to focus on what really matters.
Great Presentation Ideas: How to Captivate Your Audience
When creating a social media recruitment strategy, there are three critical considerations every employer or talent organization must address directly and comprehensively. The good news is, you already know the answers to these crucial questions, and while unique to every company, recruiter and job opportunity, those answers provide a strategic, measurable framework for social recruiting success. The Big 3 Questions of Talent Acquisition Hiring managers, HR business partners, recruiters and executive leadership (not to mention current employees) are all crucial stakeholders in the talent acquisition and retention process. That's why it's important to remember that no matter what your role or the size of your company, recruiting relies on performance based feedback.
How To Create A Social Recruiting Strategy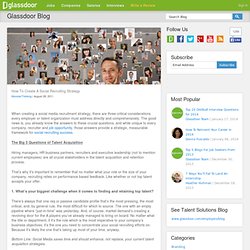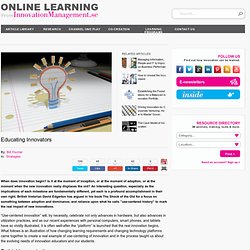 "Use-centered innovation" will, by necessity, celebrate not only advances in hardware, but also advances in utilization practices, and as our recent experiences with personal computers, smart phones, and tablets have so vividly illustrated, it is often well-after the "platform" is launched that the real innovation begins. What follows is an illustration of how changing learning requirements and changing technology platforms came together to create a real example of use-centering of innovation and in the process taught us about the evolving needs of innovation educators and our students. Rethinking marketing
Educating Innovators
Motivational Interviewing Page
Motivational Interviewing
A brief (8 minute) interview with Bill Miller about the background of Motivational Interviewing. (pdf) (pdf)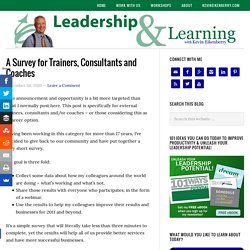 A Survey for Trainers, Consultants and Coaches
This announcement and opportunity is a bit more targeted than what I normally post here. This post is for external trainers, consultants and/or coaches – or those considering this as a career option. Having been working in this category for more than 17 years, I've decided to give back to our community and have put together a very short survey. My goal is three fold: Collect some data about how my colleagues around the world are doing – what's working and what's not. Great People Are Overrated - Bill Taylor
by Bill Taylor | 2:42 PM June 20, 2011 Last month, in an article in the New York Times on the ever-escalating "war for talent" in Silicon Valley, Facebook CEO Mark Zuckerberg made a passing comment that has become the entrepreneurial equivalent of a verbal tick — something that's said all the time, almost without thinking.
Daniel Pink: What makes people tick at work?
Democrasoft - Social Collaboration & Voting Platforms for Building Online Communities
I have over the past few weeks found myself engaged in a number of open conversations with primarily HR folks about diversity and inclusion. I love it that I continue to find robust conversations involving lots of people in different roles around this set of issues. I think that there is a growing awareness that this set of issues has very real implications toward our ability to move forward. There are, however, a few common themes that seem to consistently pop up in these conversations that concern me.
Joe Gerstandt | Keynote Speaker & Workshop Facilitator | Illuminating the value of difference
by Richard Catrambone | 12:11 PM October 20, 2011
The Best Approach to Training - Richard Catrambone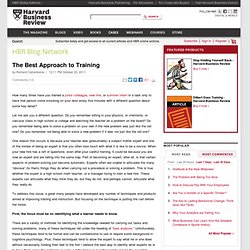 Fast Company wants you to have your best year yet in 2012; click for more advice and tips on how to work smarter, manage your career, and lead a more meaningful life. Why doesn't digital talent want to work at your company? It's not because you're a consumer packaged goods company, rather than Google. It's not because you're in Ohio instead of Silicon Valley. It's not because your salaries are too low, or because you don't offer free food and laundry services.
Why Digital Talent Doesn't Want To Work At Your Company
Exploring the Educational Potential of Video Game-Based Learning: A Few Moments with Kurt Squire
When Kurt Squire first began studying video games, learning and cognition from a socio-cultural perspective in the late '90s, the field was still in its infancy. Fast forward to 2011, and Squire is considered a leading scholar in the burgeoning area of video game-based learning. He is perhaps most notably known for his extensive examination of Civilization III for which he designed a game-based learning program to study students' learning in the classroom. As director of the Games, Learning and Society Initiative at the University of Wisconsin-Madison, he spends his time researching the civic potential of video games and the broader impact they have on the educational sphere.