Traducteurs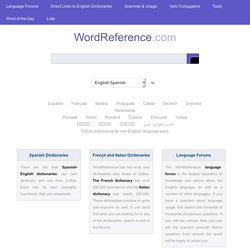 Spanish Dictionaries There are two free Spanish-English dictionaries: our very own dictionary and one from Collins. Each has its own strengths.
SYSTRANet est le meilleur service de traduction en ligne gratuit disponible sur le Web. Développé par SYSTRAN, le leader mondial des logiciels de traduction automatique, il vous permet d'accéder en temps réel et dans votre langue à n'importe quelle information en langue étrangère. Traduire des textes courts jusqu'à 1 000 mots. Traduire des pages Web. Rechercher les traductions des mots et des expressions dans le Larousse et dans les dictionnaires spécialisés SYSTRAN.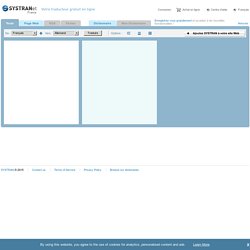 Babylon
Microsoft Office users: translate between all supported languages. Install additional languages in Office. Sign up for the Microsoft Translator API using Windows Azure Marketplace. You can try out the functionality of the Translator API without having to write any code, right on the Marketplace. Use Microsoft Translator from within your favorite CAT tool, including Trados, MemSource, Fluency, XTM Cloud, Lingotek, Déjà Vu, MultiCorpora, memoQ, Global Sight, Clay Tablet, Wordfast, Sisulizer, Wordbee, OmegaT and VisualTran Mate. Translate any page with the simple click of a bookmark.