Tout en QR Code.
create kimtag : is a Premium Kimtag and costs UK £34.95 per year to register. If you would like to proceed, enter your details and click 'create kimtag'.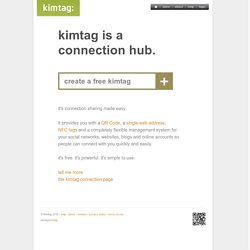 Avakard Social Networking Cards
Paperlinks is the premier platform for generating QR codes for businesses. Use Paperlinks to: Generate a QR code Build a beautiful mobile website Obtain a designer code Track campaign analytics Perfect for businesses Add a Paperlink to a product, ad, or poster, and watch people interact your brand on a whole new level.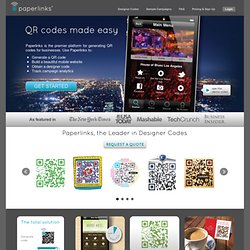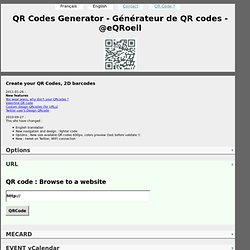 QR Code ? Datamatrix ? Codes à barres 2D ?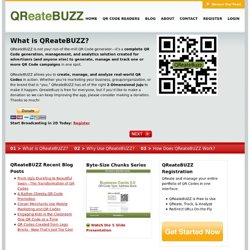 What is QReateBUZZ? QReateBUZZ is not your run-of the-mill QR Code generator—it's a complete QR Code generation, management, and analytics solution created for advertisers (and anyone else) to generate, manage and track one or more QR Code campaigns in one spot. QReateBUZZ allows you to create, manage, and analyze real-world QR Codes in action. Whether you're marketing your business, group/organization, or the brand that is "you," QReateBUZZ has all of the right 2-Dimensional Juju to make it happen.
QR Code Generator, Management, & Analytics | QReateBUZZ
:: myelefant ::