Tout en QR Code.
Get flash to fully experience Pearltrees
Vraiment une belle idée. Un QR Code qui redirige vos visiteurs vers une page contenant tous vos services web. Cela peut être votre site, blog, compte Twitter, Facebook, Tumblr etc.
On peut aussi ajouter des informations tels que N° de téléphone ou encore notre localisation.
Il est possible de customiser le QR Code en ajoutant un fond de couleur voir même une image. C'est très complet. by masa Apr 2
Des cartes de visites à base de QR Code, excellent idée. by masa Mar 2
Des cartes en QR Code pour toutes les occasion de la vie ou tout simplement pour partgaer des informations by masa Mar 2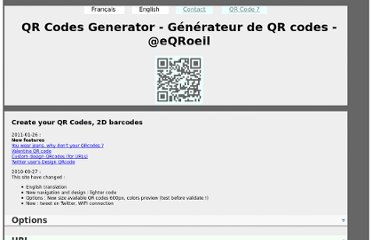 QR Code ? Datamatrix ? Codes à barres 2D ?
Pour générer des QR Code et pour toutes utulisations, site web, tweet, mail, évènement etc... by masa Jan 10
QR code generator Custom QR code link to Twitter Comments here (tumblr post) : "QR code to Twitter"
Créer un QR Code spécialement pour son compte Twitter avec pour originalité, de faire apparaitre sur le code, l'oiseau et le nom de vôtre compte. by masa Jan 10
Application en bêta mais fonctionne très bien. Elle vous permet de comparer les prix des différents supermarché autour de chez vous. Vous pouvez aussi vous créer une base de donnée pour vos produits. A essayer ! by masa Jan 1