Montaż film/muzyka/obraz
Weavly - Easily create video mashups & remixes! PowToon : Online business presentation software to create free, cool, animated, powerpoint video alternatives. The Best Free Video Maker for YouTube - ezvid.com. Get a Free Online Video Editor | WeVideo. What is export time?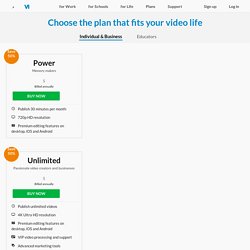 This is the cumulative length of all your exports. For example, 15 min per month will allow you to export 5 videos at 3 min each, or 3 videos at 5 min each, etc. You can always buy extra time if you need it. Your allowed time limit resets every month. - Pixorial, Inc. Wideo.co | Anyone can make cool videos! Mix videos, GIFs & sounds! Splicd · Get Straight To The Point. Picjuice.com - online photo editor. Create free online video, photo and music mashups.
Audiotool. Create a free account | One True Media. Free online Audio Editor - Aviary.com's Myna. As per this blog post from July, we have officially closed the advanced suite of Flash tools (previously located at advanced.aviary.com) in order to focus on our new company direction powering the photo experience in 3rd party apps.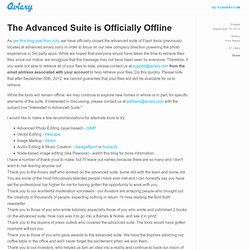 While we hoped that everyone would have taken the time to retrieve their files since our notice, we recognize that the message may not have been seen by everyone. Therefore, if you were not able to retrieve all of your files to date, please contact us at support@aviary.com from the email address associated with your account to help retrieve your files. Livestream. Discover and Experience Live Events. Broadcast your own events live with our Platform and Services. Free video chat API and Widgets | TokBox. Scalable platform From start-up to established enterprise, our platform scales to meet your needs.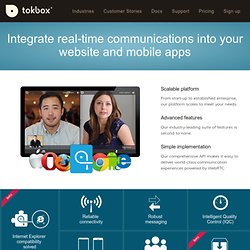 Advanced features Our industry-leading suite of features is second to none. Simple implementation Our comprehensive API makes it easy to deliver world-class communication experiences powered by WebRTC. JellyCam - Stop Motion. Create A Video | ZEODIA.COM. Creative storytelling - Creaza.
---