Tools & Techniques
Working Examples. Cognitive Tutor Authoring Tools: Home. How to Name a Course to Encourage Enrollment « Absorb LMS Blog. Home > Best Practices > How to Name a Course to Encourage Enrollment You may create the best, most engaging content in the world.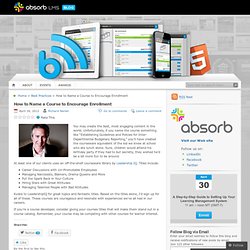 Unfortunately, if you name the course something like "Establishing Guidelines and Policies for Inter-Departmental Budgetary Reporting," you'll have created the courseware equivalent of the kid we knew at school who ate lunch alone. Google Analytics : 10 outils pour mieux l'utiliser. Daniel que je remercie m'a généreusement proposé d'écrire un article sur SEOmix.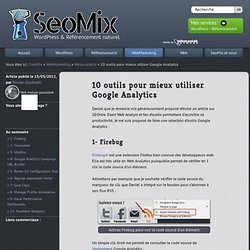 Etant Web Analyst et fan d'outils permettant d'accroître sa productivité, je me suis proposé de faire une sélection d'outils Google Analytics : 1- Firebug Firebug est une extension Firefox bien connue des développeurs web. Flame: Une application pour dessiner avec la lumière « Photos « Geekaison. Flame Painter est une belle application amusante qui nous permet de dessiner avec la lumiere.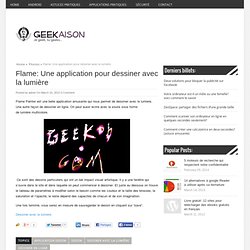 Une autre façon de dessiner en ligne. On peut aussi écrire avec la souris sous forme de lumière multicolore. SCORM. BigBlueButton -- Open Source Web Conferencing | www.bigbluebutton.org. BigBlueButton -- Open Source Web Conferencing | www.bigbluebutton.org.
OpenClass. ShowMe - The Online Learning Community. The Ingenious Business Model Behind Coursekit, A Tumblr For Higher Education. At universities, educational software largely means enterprise-scale, expensive, feature-stuffed "learning management systems.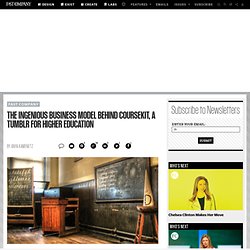 " Blackboard has the majority of the market, but professors and students are about as enthusiastic about its various updates, crashes, and bugs as people are with the latest version of Windows (Blackboard scores a whopping 93% "hated" rating on website Amplicate). Last week, a new alternative was launched--built by students--that looks and works a lot more like the social platforms people actually choose to use in their spare time. The core of the site is a constantly updated social Stream where instructors and students can conduct discussions or easily post rich media.
Picture a cleaner-looking Facebook news feed, centered on a single academic theme, or a group Tumblr blog where each picture, question, or video can accumulate its own discussion in the attached comment thread. Reed Hastings And John Doerr Put $11M In Adaptive Online Math Learning Platform DreamBox. DreamBox Learning, an adaptive e-learning platform for students, has raised $11 million in new funding led by Netflix CEO Reed Hastings (who is investing through the Charter School Growth Fund), and Kleiner Perkins partner John Doerr (this is a personal investment for Doerr).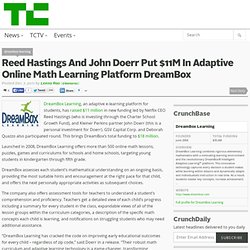 GSV Capital Corp. and Deborah Quazzo also participated round. This brings DreamBox's total funding to $18 million. Launched in 2008, DreamBox Learning offers more than 500 online math lessons, puzzles, games and curriculums for schools and home schools, targeting young students in kindergarten through fifth grade. DreamBox assesses each student's mathematical understanding on an ongoing basis, providing the most suitable hints and encouragement at the right pace for that child, and offers the next personally appropriate activities as subsequent choices. The company also offers assessment tools for teachers to understand a student's comprehension and proficiency. How Khan Academy is using Machine Learning to Assess Student Mastery | David Hu. See discussion on Hacker News and Reddit.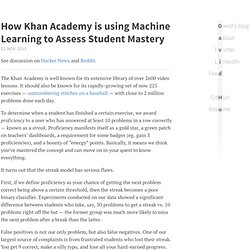 The Khan Academy is well known for its extensive library of over 2600 video lessons. It should also be known for its rapidly-growing set of now 225 exercises — outnumbering stitches on a baseball — with close to 2 million problems done each day. eFront - User Friendly Learning System with Rich Social and Enterprise Functionality - Home. Open source E-learning platform, Scorm LMS and LCMS. Dear Docebo community members We have very impressive and exciting news about the Docebo project and we are really excited to share them with you.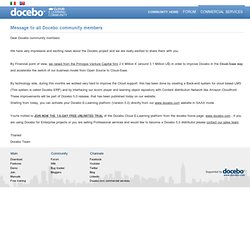 By technology side, during this months we worked very hard to improve the Cloud support: this has been done by creating a Back-end system for cloud based LMS (This system is called Docebo ERP) and by interfacing our scorm player and learning object repository with Content distribution Network like Amazon Cloudfront. These improvements will be part of Docebo 5.0 release, that has been published today on our website. Brainscape: Learn Faster. Sky - Digital Learning Environment meets Content Management System. Custom Curriculum Publishing is a tool used with the Learning.com platform that allows you to organize your district's digital content into ready-to-assign lessons, units, or courses.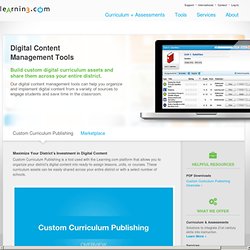 These curriculum assets can be easily shared across your entire district or with a select number of schools. Easily Organize and Share. GeoGebra. Workshop - How to Make Instructables. Faciliter la production d'un groupe de travail en ligne. Recommander cette page à un(e) ami(e) Stimuler et organiser les contributions d'un groupe de travail Si vous avez déjà été membre d'un groupe de travail en ligne, vous savez qu'une petite fraction des membres seulement participe activement, et qu'il est indispensable que le groupe soit animé.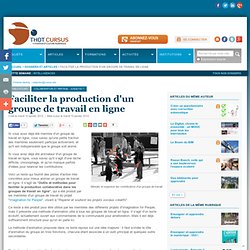 Know Labs - Educating the 21st century. Coursekit. How to Make an Interactive Lesson Using Youtube.
---