Web Hacks
Export Google +1 Pages
Google's Data Liberation team added a new feature to Google Takeout: exporting the pages you've +1'd. The pages are saved to a bookmarks.html file that can be imported by almost any browser. Google now offers three ways to bookmark pages: Google Bookmarks and Chrome Bookmarks for private bookmarking, Google +1 for social bookmarking. While Google Bookmarks supports labels and Chrome Bookmarks uses folders, Google +1 doesn't have a way to organize your bookmarks.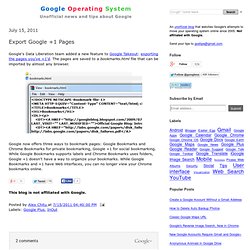 Cheat Sheet - Post by Simon Laustsen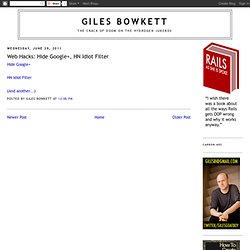 Hide Google+, HN Idiot Filter
Giles Bowkett the crack of doom on the hydrogen jukebox Wednesday, June 29, 2011
You can integrate Google Analytics to monitor your Picasa Web Albums photo traffic. Please note that this is not a feature for the average bear. We recommend that you first gain some familiarity with Google Analytics to get the best results from this feature.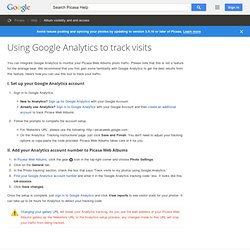 Using Google Analytics to track visits : Captions, Comments, and Tags - Picasa Help