Web Hacks
Export Google +1 Pages. Google's Data Liberation team added a new feature to Google Takeout: exporting the pages you've +1'd.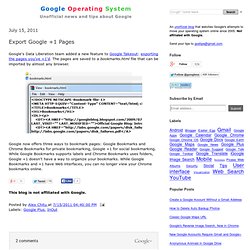 The pages are saved to a bookmarks.html file that can be imported by almost any browser. Google now offers three ways to bookmark pages: Google Bookmarks and Chrome Bookmarks for private bookmarking, Google +1 for social bookmarking. While Google Bookmarks supports labels and Chrome Bookmarks uses folders, Google +1 doesn't have a way to organize your bookmarks. Google Plus Nick. Cheat Sheet - Post by Simon Laustsen.
Hide Google+, HN Idiot Filter. Using Google Analytics to track visits : Captions, Comments, and Tags - Picasa Help. You can integrate Google Analytics to monitor your Picasa Web Albums photo traffic.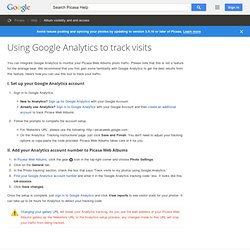 Please note that this is not a feature for the average bear. We recommend that you first gain some familiarity with Google Analytics to get the best results from this feature.
---