Tips+Tricks
It's just a couple of weeks old but there is so much stuff on Google+.

Thi pearl is onTips+Tricks which specially now should come handy during the Field Test.

If you want more info check the entire pearl Google+ alphinux Jul 11
Get flash to fully experience Pearltrees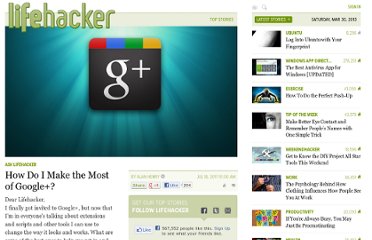 Dear Lifehacker, I finally got invited to Google+, but now that I'm in everyone's talking about extensions and scripts and other tools I can use to change the way it looks and works. What are some of the best ones to help me get in and start using it? Signed, Amateur Social Butterfly Dear Social Butterfly, Congratulations on getting your invite! Google+ is growing, and even before it was easy to get an invite, people were busy writing userscripts and add-ons for Firefox and Chrome to help you tweak the layout, add new tools, and change the look and feel of the social network. While we think the interface in Google+ is pretty solid, there are some great add-ons and tricks out there you might want to try to make it easier or more fun to use.
Curious about Google+, but don't know where or why to start? Check out "Get Into Google+: A Guide For Everyone", the latest free guide from MakeUseOf. This guide, by author Maggie Marystone, teaches you everything you've ever wanted to know about Google Perhaps you were a founding member of MySpace.
Ok, so this is the UPDATED top of most popular chrome extensions for Google+ that I found until now in the chrome web store . Did I miss an extension or make a mistake? Leave me a comment on the original post: http://goo.gl/OLveP .
Using Google+? Add Mashable to your circles. You'll get the latest about new Google+ features and tips and tricks for using the platform as well as top social media and technology news. Although it's only been in existence for a month , we've seen a number of Google+-related websites and services spring up across the web.
Google recently released Calendar app for Android phones which makes it easier for you to manage all your calendars in one place, including your Google accounts. Google Calendar has some really nice features which besides creating, editing and deleting events, allows you to send predefined messages, pinch to zoom in and out of a day and enables you to review events from up to one year ago. Another great feature that is ad Read More... Today one of the Googler 'Roshni Malani' announced on Google+ that now Google+ Event notifications will start appearing in Gmail and users will be able to respond to Event invites. As an invitee you can also upload photos , comment and respond to comments on the event page, invite friends and all this can be done while you are in your Gmail Inbox, without opening Google+.