Sweeney Todd : Le Diabolique Barbier de Fleet Street
SWEENEY TODD - TIM BURTON‬‏
Tim Burton et la comédie musicale Sweeney Todd - Interview vidéo Tim Burton, Sweeney Todd
Interviews Sweeney Todd, le Diabolique Barbier de Fleet Street : réalisateur, acteurs... – TOUTLECINE.COM
Interview Johnny Depp- Tim Burton- Sweeney Todd- VOST‬‏
Vidéo BANDE ANNONCE VOST SWEENEY TODD de SWEENEYTODD - wat.tv
Tapis rouge Johnny Depp - Premiere Sweeney Todd Londres - une vidéo Cinéma
Tim Burton et Johnny Depp à Paris pour Sweeney Todd, le Diabolique barbier de Fleet Street‬‏
Vidéo EXTRAIT 1 VOST SWEENEY TODD de SWEENEYTODD - wat.tv
Vidéo EXTRAIT 3 VOST SWEENEY TODD de SWEENEYTODD - wat.tv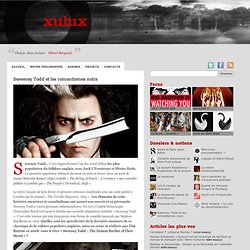 Sweeney Todd… C'est originellement l'un des serial killers les plus populaires du folklore anglais, avec Jack L'Eventreur et Mister Hyde. La première apparition littéraire du tueur en série se trouve dans un texte de James Malcolm Rymer (1846) intitulé « The String of Pearls : A romance » une nouvelle publiée à Londres par « The People's Periodical, 1846 ». Le récit s'inspire de faits divers et présente certaines similitudes avec un conte publié à Londres par le journal « The Terrific Registrer, 1825 ».
Sweeney Todd et les romantismes noirs
Sweeney Todd, le diabolique barbier de Fleet Street (2007)
Sweeney Todd, le diabolique barbier de Fleet Street (2007)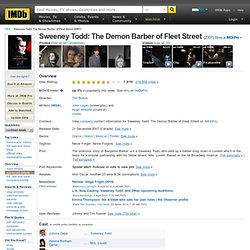 Composer Stephen Sondheim, notoriously protective of his stage works, long resisted offers to film this story. When Tim Burton expressed interest, however, Sondheim relented when pleased with Burton's vision for the project and on the condition that the composer would maintain casting approval. Burton would only agree to direct with Johnny Depp in the lead, and though Sondheim feared Depp's vocals would be too "rock oriented," the composer approved the actor after a vocal audition. To approve the casting of Helena Bonham Carter, and to combat any rumor of nepotism (as Carter and Burton were romantically involved), the actress sent Sondheim no less than twelve audition tapes of her singing. Very impressed with her vocals, Sondheim immediately approved the actress. Also, in his recent book about his career as a songwriter, "Finishing the Hat" Sondheim states that this is the only adaptation of one of his works for the screen that he approves of.See more »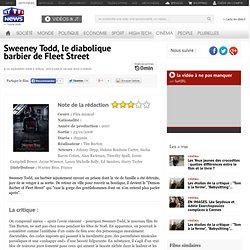 On comprend mieux – après l'avoir visionné – pourquoi Sweeney Todd, le nouveau film de Tim Burton, ne sort pas chez nous pendant les fêtes de Noël. En apparence, on pourrait le considérer comme l'antithèse d'un conte de fées avec des personnages moralement discutables, des codes imposés qui passent à la moulinette gore, des parenthèses musicales parodiques et une «unhappy end» d'une beauté fulgurante. En substance, il s'agit d'un vrai bloc de noirceur pure fomenté pour ceux qui aiment la beauté nichée dans la laideur et les psychologies détraquées. Il faut se réjouir d'une telle prise de risque dans le cinéma de Burton plus consensuel (comprendre plus mainstream) et moins séduisant (comprendre moins marginal) depuis ces cinq dernières années.
Sweeney Todd - Film cinéma
film Sweeney Todd
Un article de Wikipédia, l'encyclopédie libre. Burton caressait l'idée d'adapter la comédie musicale de Sondheim depuis les années 1980 et a finalement eu l'opportunité de concrétiser cette ambition quand DreamWorks SKG lui a proposé de remplacer le réalisateur Sam Mendes sur leur projet d'adaptation. Sondheim a fait office de consultant durant la production. À sa sortie, le film a été accueilli très favorablement par la critique. Il a été un semi-échec commercial aux États-Unis mais a rencontré le succès dans le reste du monde. Il a remporté plusieurs prix, dont le Golden Globe du meilleur film musical ou comédie et l'Oscar de la meilleure direction artistique et Depp a été récompensé pour son rôle par le Golden Globe du meilleur acteur dans un film musical ou une comédie et a été nommé pour l'Oscar du meilleur acteur.
Sweeney Todd : Le Diabolique Barbier de Fleet Street