Thinkingskills
Inference
Questioning : READINGPOWER
Teaching Resources - Other Resources - Blooms Taxonomy - CCCOnline Faculty Wiki
WebQuest Search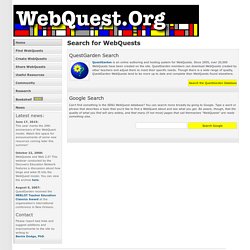 Latest news: October 28, 2008:WebQuest 101. A series of short introductory videos has been developed by SDSU Professor T. J. Kopcha.
Characteristics of Critical Thinking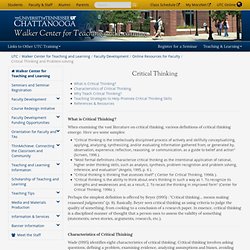 Critical Thinking What is Critical Thinking? When examining the vast literature on critical thinking, various definitions of critical thinking emerge.
Thinking Skills
Creative thinking is the creation or generation of ideas, processes, experiences or objects. Critical thinking is concerned with their evaluation. Thinking activities need to be planned and scaffolded.
Bloom's Taxonomy Blooms Digitally, Andrew Churches