Things i want to make
DIY freezer paper stenciled scarf. Inspired by the frozen boulders the city snowplow piled up along our street, I made a scarf.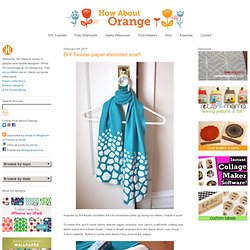 To make this, you'll need: fabric, freezer paper, scissors, iron, pencil, craft knife, cutting mat, fabric paint, and a foam brush. I used a length of jersey from the fabric store—you know, T-shirt material. Soft and comfy, and doesn't fray around the edges. Rope necklace. A few weeks ago I spotted the above necklace by 3.1 Phillip Lim while shopping online (here) and decided it would make the perfect addition to my Spring wardrobe.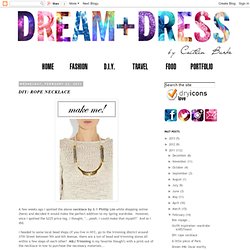 However, once I spotted the $225 price tag, I thought, "...psssh, I could make that myself! " And so I did. How to Make Wood Dough | General Arts & Crafts. If your kids like playing with dough like Play-Doh or molding clay, they will love making sculptures with homemade wood dough.
Homemade wood dough dries to a wood finish and can be sanded down smooth with sandpaper. You can also paint or stain wood dough sculptures. To paint them, you can use any of the homemade paint recipes I have at the bottom of this article. To stain them, you can make a stain by adding 6 drops of food coloring to 1 tablespoon of water. Needlepoint Lace Tutorial « textile dreams – fibery wake up. This tutorial will show you how to create a small piece of needlepoint lace.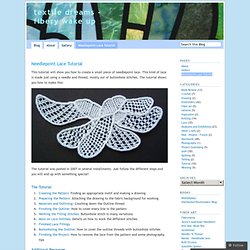 This kind of lace is made just using a needle and thread, mostly out of buttonhole stitches. The tutorial shows you how to make this: The tutorial was posted in 2007 in several installments. Just follow the different steps and you will end up with something special! Little Livingstone: How to Make a Leather Leaves Necklace. What you need: Soft leather piecesAwl (or something sharp and pointy =)PliersScissorsGluePre cut chain2 0 ringsleaf template first, cut a simple leaf template from card.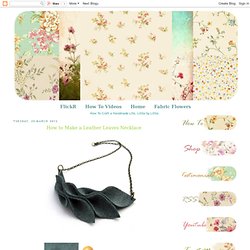 Cassette Tapes Reborn as a Clever Box Lamp Cassette Lamp by Vanessa Moreno - Bright Ideas Lighting Design Competition - StumbleUpon. How to Make a Sunburst Mirror. No-Carve Stamps. By Jeromina Juan Ever wonder about the possibilities of designing your own stamps without having to carve anything?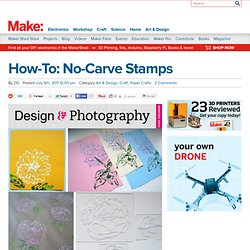 There is a simple way! You'll need one ordinary household object – silicone caulking. Elegant 'tin can' tea light holder. 1) Who said baked beans and a naked flame don't mix… 2) …hey, don't get too close (just in case).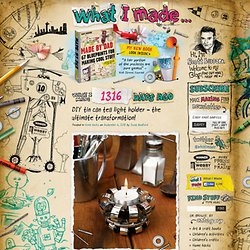 For this week's craft I've rested my son's felt-tip pens and pursued one of my other passions, creating beautiful things out of junk – in this case an elegant tea light holder made from an empty tin of Heinz Baked Beans (the beans on toast were pretty good as well). So why not give it a go, it's a great way to 'upcycle'? Amigurumi Tutorial 1 (learn how to crochet) | Hook and Needles: Knitting and Crochet Blog (cool stuff, techniques, and things I find)
This tutorial is for all of you knitters who wish to learn how to make amigurumis.
In the first part of this tutorial I'll go over the basic crochet techniques you need to master. I know most people are visual learners, so I'm using a lot of videos (they may take some time to load). Beltmaking 101. Finally–the long-awaited beltmaking tutorial!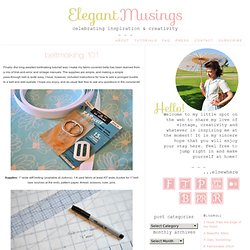 Way I make my fabric-covered belts has been learned from a mix of trial-and-error and vintage manuals. The supplies are simple, and making a simple pass-through belt is quite easy. I have, however, included instructions for how to add a pronged buckle to a belt and add eyelets. Shadow Box Photo Display for Photographers. Need help turning your post-vacation keepsake clutter into a divine display?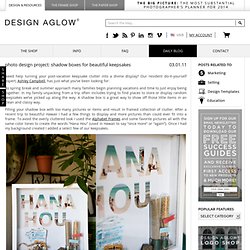 Our resident do-it-yourself expert, Ashley Campbell, has just what you've been looking for: As spring break and summer approach many families begin planning vacations and time to just enjoy being together. Mad in crafts: DIY Fire & Ice Lanterns - StumbleUpon. The old becomes new: A new variation on the outdoor lantern. We have had an unusually warm winter in Michigan this year, and while the temps have been nice, I have had to hold off on this project idea until we got a cold snap. We finally got some snow and cold earlier this week, so I was able to try out this fun winter project.
I had pinned a product called Globe Ice Lantern Kits a few months back recognizing that I could DIY them at home. Originally priced at nearly $30 for a kit that makes 6 lanterns, I think they are very reasonable for a small batch. How to Make Paper Lanterns - Cute Round Oriental Style.
Looking for instructions on how to make paper lanterns? My husband designed an easy template for making paper lanterns in a cute round shape. They look a bit oriental, don't you think? These "lanterns" are purely decorative and aren't designed to have a lamp inside them, but they do make great festive decorations. In fact, they started out as a design for Christmas baubles. By the way, if you want to learn how to make a lantern that you can put a lamp inside of, then check out my instructions for making paper star lanterns. Studio G, Garden Design & Landscape Design Inspiration » DIY Outdoor Garden Chandelier Round-up. I am eager to get home (on a red-eye flight tonight) and back to some projects and normal life.
I have a patio project going on that should be nearing completion this week. Once finished, I am excited to start adding features — like a beautiful garden chandelier. DIY: Hair Comb. *UPDATE! See the step-by-step instructions here. This is a super simple project. All you need is a hair comb and embroidery floss. I had a pack of hair combs that I got at Walgreens a long time ago (Like 10 or 12 combs for $4- they still have them). Plus vintage embroidery floss from forever ago. Magazine Bowls | How To | Cut Out + Keep - StumbleUpon. DIY modern paper ornament. I love spiky starburst shapes, so I attempted a version of the traditional Polish porcupine ball. Here's how to make this cool 3D ornament—great for Christmas or decorating any time. I can imagine jumbo sized versions hanging at parties or weddings. They take awhile, though, so you'd better start making them five years before you plan to get married.
How to Make Paper Pencils (tutorial) Glass Etching | Make It and Love It - StumbleUpon. Etched Glass Storage Jars - Martha Stewart Home & Garden. Repurposed Hardcover Book to Notebook Tutorial. Brooches with Bite. Eye on Fashion: Beaded bracelet DIY.
Yarn Love | Family Chic. Top 100 Tutorials of 2010. Stuff to Make in my Old Age - StumbleUpon. Psimadethis. A Rose is a Rose?
---