TheoryCrafting
Drood. RaidComp. Elitist Jerks. Combat Ratings at level 85 (Cataclysm. Cataclysm Discipline Priest Compendium. WoW Talent Calculator - Sigrie. Bloggers. Priest. Cataclysm Healing Priest Theorycrafting.
WoW Talent Calculator - Sigrie. WoW Talent Calculator - Sigrie. WoW Talent Calculator - Sigrie. WoW Talent Calculator - Sigrie. Desperate Prayer. Priest (31/10/0) - Talent Calculator. Simulationcraft - Project Hosting on Google Code. Overview SimulationCraft is a tool to explore combat mechanics in the popular MMO RPG World of Warcraft (tm).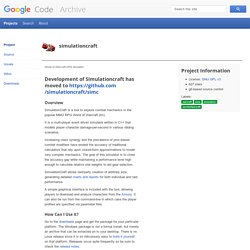 It is a multi-player event driven simulator written in C++ that models player character damage-per-second in various raiding scenarios. Increasing class synergy and the prevalence of proc-based combat modifiers have eroded the accuracy of traditional calculators that rely upon closed-form approximations to model very complex mechanics. The goal of this simulator is to close the accuracy gap while maintaining a performance level high enough to calculate relative stat weights to aid gear selection. SimulationCraft allows raid/party creation of arbitrary size, generating detailed charts and reports for both individual and raid performance. Mr. Gorkac @ Conseil Des ombres - Mr. Mr.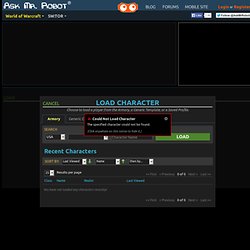 Robot's code has been updated! But, your saved stat weights don't work with his new code. Just this ONE TIME, he needs you to update them. Ljosalfar @ Conseil Des Ombres - Mr. Ljosalfar Blood Elf PriestConseil des Ombres (EU) Mr.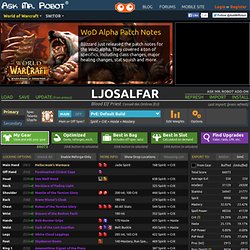 WoW Guild Progress, Character and Loot Rankings.
---