Theming
25 Best WordPress Photography Themes. If your a photographer capturing beautiful photos, you will want your website to showcase and present your images in a complimentary way.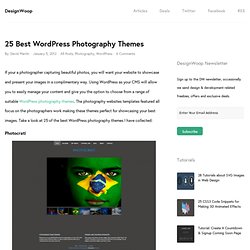 Using WordPress as your CMS will allow you to easily manage your content and give you the option to choose from a range of suitable WordPress photography themes. The photography websites templates featured all focus on the photographers work making these themes perfect for showcasing your best images. 650+ Free Photoshop Patterns. Get the FlatPix UI Kit for only $7 - Learn More or Buy Now The use of repeating patterns in Photoshop can help to produce attractive website backgrounds with very little effort, and of course patterns have other uses as well.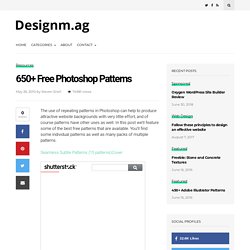 In this post we'll feature some of the best free patterns that are available. You'll find some individual patterns as well as many packs of multiple patterns. 70 Awesome Paper Texture Packs from DeviantArt. 35 Impressive Minimal Web Design. 550+ Free Abstract Photoshop Brushes. 100+ Resources for WordPress Theme Developers - Web Design Blog – DesignM.ag. Get the FlatPix UI Kit for only $7 - Learn More or Buy Now One of the great things about working with WordPress and developing your own themes is the community and all of the resources that are available.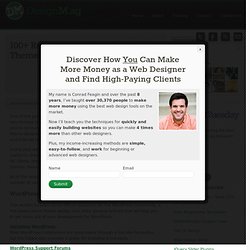 If you're not sure how to do something or looking to see what solutions other theme designers and developers are using, you can find plenty of infomation and tutorials to help. Must Have Dark Textures Pack for Designers - Web Design Blog – DesignM.ag. Get the FlatPix UI Kit for only $7 - Learn More or Buy Now Dark design is always appealing to the viewers whether you are creating a website or poster design.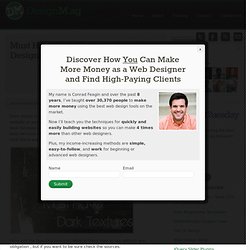 Adding dark textures can take your design to next level because textures always makes your design pop and aesthetic. In this post we have collected some of the best dark textures packs on the web. In total there are more than 50 textures included in the post. Royalty Free Textures and Background Images - texturevault.net. MattEdson on deviantART.
[CG Textures] - Textures for 3D, graphic design and Photoshop! 30 Excellent Resources for Graphic Design Freebies. You can find a variety of useful and creative graphic design resources on the web the offer downloadables such as stock photos, textures/patterns, brushes, icons, and fonts that designers have decided to share with others in the community.
In this article, you'll find some of the best websites to visit for graphic design resources. Stock Photos Flickr: Creative Commons Flickr, the premier site for online photo-sharing and the hangout of many designers and photographers, has a section called Flickr: Creative Commons that allows you to quickly view user-submitted images that have a Creative Commons license. Download Hundreds of Free @font-face Fonts.
This license can also be found at this permalink: ———————————————————————————————————— Fonthead Design End User License Agreement———————————————————————————————————— By downloading and/or installing Fonthead Design fonts ("software") you agree to the following user license terms: 1) Grant of License: The purchase of this software grants to you ("user") as licensee, the non-exclusive right to use and display the software at a single home or business location on a maximum of 5 CPUs.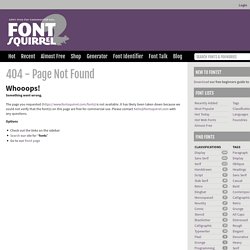 Jg-visuals on deviantART.
---