Books
Programming iOS 4 - Google Preview - O'Reilly Media. The biggest problem is that it seems to be catering for people with little to no experience in coding, but is totally hands-off.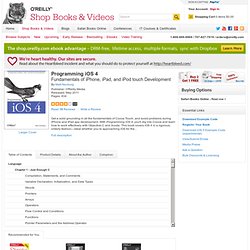 It's not unti 100 pages into the book that you finally open Xcode and make an empty project - literally an empty project, it's not even a "Hello, World! " app, it doesn't become a "Hello, World! " until some 50 odd pages later. For something seemingly written for people with little experience, so much is explained to the nth degree with no real world examples. As someone who DOES have experience coding, sometimes even I'm left head scratching a little but how complex things get whilst having no actual examples to relate them to. Beginning iPhone Development: Exploring the iPhone SDK (9781430216261): Dave Mark, Jeff LaMarche. Market iPhone Apps | Rockable Press | Rockable Press.
In iPhone App Entrepreneur, AppStorm manager David Appleyard draws from the insights and experiences of 16 top-notch app developers, and survey responses from over 1000 iPhone users world-wide, so you'll be equiped with everything you need to successfully become an iPhone App Entrepreneur!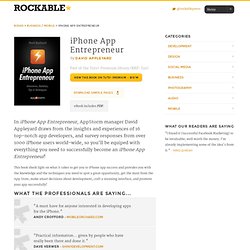 This book sheds light on what it takes to get you to iPhone app success and provides you with the knowledge and the techniques you need to spot a great opportunity, get the most from the App Store, make smart decisions about development, craft a stunning interface, and promote your app successfully! What the professionals are saying...
"A must have for anyone interested in developing apps for the iPhone. "Andy Crofford - mobileorchard.com "Practical information... given by people who have really been there and done it. "
---