Associated & Further Links
UK Collapse: Home. Husky City – A City of the Future. RBE Stories | Making Films From The Resource Based World. Creative Alternatives - 'Finding you free stuff & working together to grow an ethical 'real economy'. ZEITGEIST LIVE - Every Monday @ 10 PM Central - Brought to you by TZM Austin. Trello. UK Collapse. Science & Tech. Scirus - for scientific information.
Creative Alternatives. Factual Solutions. Ideas To Promote The Zeitgeist Movement and Spread Awareness If you have just watched Zeitgeist Addendum, you may be asking yourself: "How can I actually help?"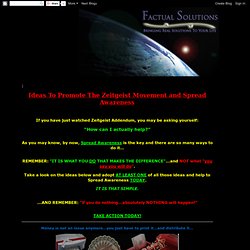 As you may know, by now, Spread Awareness is the key and there are so many ways to do it… REMEMBER: "IT IS WHAT YOU DO THAT MAKES THE DIFFERENCE"...and NOT what "you say you will do". Take a look on the ideas below and adopt AT LEAST ONE of all those ideas and help to Spread Awareness TODAY. Practical Solutions UK. Socio-Economic. War / Military Industrial Complex. Clean, Free Energy.
Sustainability / Eco. TRANSITION TOWNS. Food, Drink, Health. Natural Alternatives. Animation World Network. RepRap. Edit is restricted to the sysop group (set from the "protect" tab)move is restricted to the sysop group (set from the "protect" tab) RepRap is humanity's first general-purpose self-replicating manufacturing machine.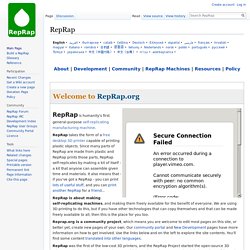 RepRap takes the form of a free desktop 3D printer capable of printing plastic objects. Since many parts of RepRap are made from plastic and RepRap prints those parts, RepRap self-replicates by making a kit of itself - a kit that anyone can assemble given time and materials. It also means that - if you've got a RepRap - you can print lots of useful stuff, and you can print another RepRap for a friend... Canon seeks full automation in camera production. By YURI KAGEYAMA Canon Inc. is moving toward fully automating digital camera production in an effort to cut costs -- a key change being played out across Japan, a world leader in robotics.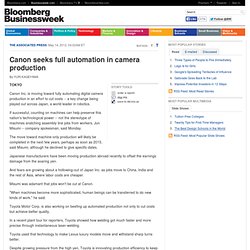 If successful, counting on machines can help preserve this nation's technological power -- not the stereotype of machines snatching assembly line jobs from workers, Jun Misumi -- company spokesman, said Monday. The move toward machine-only production will likely be completed in the next few years, perhaps as soon as 2015, said Misumi, although he declined to give specific dates. Japanese manufacturers have been moving production abroad recently to offset the earnings damage from the soaring yen. And fears are growing about a hollowing-out of Japan Inc. as jobs move to China, India and the rest of Asia, where labor costs are cheaper. BOINC malariacontrol - Linguistic Team International Wiki. From Linguistic Team International Wiki Return to BOINC Project Gateway The Project!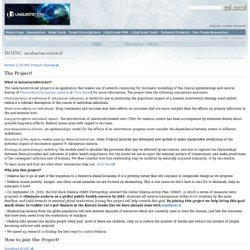 Peter Joseph. Peter Joseph[1] (born 1979) is an American independent filmmaker and social activist.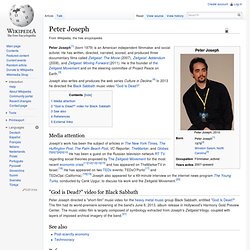 He has written, directed, narrated, scored, and produced three documentary films called Zeitgeist: The Movie (2007), Zeitgeist: Addendum (2008), and Zeitgeist: Moving Forward (2011). He is the founder of the Zeitgeist Movement and on the steering committee of Project Peace on Earth.[3] Joseph also writes and produces the web series Culture in Decline.[4] In 2013 he directed the Black Sabbath music video "God Is Dead? " Jacque Fresco. Fresco writes and lectures his views on sustainable cities, energy efficiency, natural-resource management, cybernetic technology, automation, and the role of science in society.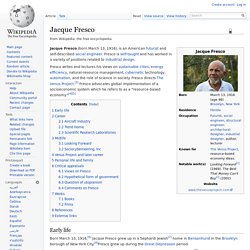 Fresco is the director of The Venus Project.[1] Fresco advocates global implementation of a socioeconomic system which he refers to as a "resource-based economy. "[2][3]
---