SF Fruit Trees Cultivars
Last Chance This Spring to Meet the PlantMobile on Saturday, April 19! Last Chance This Spring to Meet the PlantMobile on Saturday, April 19! Let us bring you your plant order and save time, energy and money!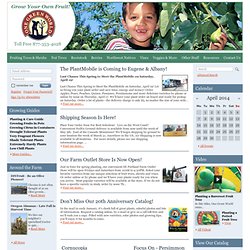 One Green World Online Catalog
Welcome to Dave Wilson Nursery
Welcome to Clausen Nursery
Welcome to Mid City Nursery - A great source for gardening and plant information.
Burnt Ridge Nursery
Rolling River Nursery
Rolling River is a family run USDA certified Organic nursery and permaculture homestead, located in Northern California. We produce a wide diversity of container grown, hardy, temperate and subtropical fruit trees and bushes, as well as many great native and multipurpose tree seedlings, plus other useful shrubs, herbs and groundcovers. From our many years of experience growing and trialing (testing) fruit and nut trees we have selected the best of our varieties for your orchards and gardens. Our mission is to provide organically grown, vigorous and productive plants, so you too can enjoy healthy, home grown, tree-ripened fruit year round. What does it mean to be USDA certified Organic?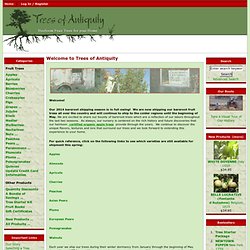 Trees of Antiquity
Welcome! Our 2014 bareroot shipping season is in full swing! We are now shipping our bareroot fruit trees all over the country and will continue to ship to the colder regions until the beginning of May. We are excited to share our bounty of bareroot trees which are a reflection of our labors throughout the last two seasons. As always, our nursery is centered on the rich history and future discoveries that our heirloom certified organic apple trees provide through the years.
Welcome to Clausen Nursery
Rolling River Nursery
Welcome to Sierra Gold Nurseries