United States
Lawsuit Loans & Lawsuit Funding
Finance Companies Making Moves Online
If you're looking for new ways to expand your brand, you've probably already explored different options, including affiliate marketing, niche marketing and using the social media networks.
Posted by Stephen Cline on November 17th, 2010 The US global economic crisis and the financial system are expected to be the topic of discussion at a meeting of the G20 in South Korea.
Obama boosts global collaboration to conquer US economic crisis
Artificial intelligence: Difference Engine: Luddite legacy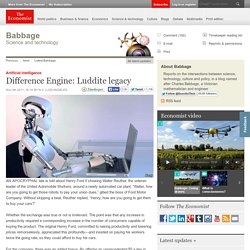 AN APOCRYPHAL tale is told about Henry Ford II showing Walter Reuther, the veteran leader of the United Automobile Workers, around a newly automated car plant. "Walter, how are you going to get those robots to pay your union dues," gibed the boss of Ford Motor Company.
America's Three Deficits - Laura Tyson - Project Syndicate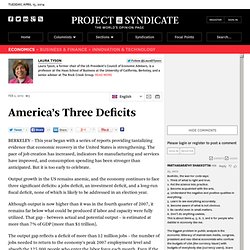 Exit from comment view mode. Click to hide this space Comments View/Create comment on this paragraph BERKELEY – This year began with a series of reports providing tantalizing evidence that economic recovery in the United States is strengthening.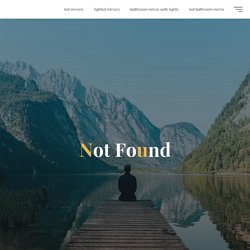 Posted by Stephen Cline on May 23rd, 2011
The Economy is Killing Las Vegas
Exit from comment view mode. Click to hide this space
"Democratic Inequality" by Raghuram Rajan
"But, Yossarian, suppose everyone felt that way."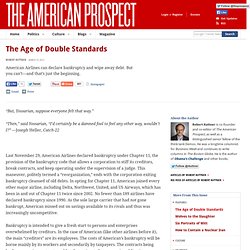 The Age of Double Standards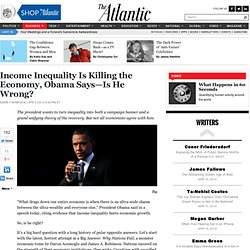 Income Inequality Is Killing the Economy, Obama Says—Is He Wrong? - Derek Thompson - Business
The president wants to turn inequality into both a campaign banner and a grand unifying theory of the recovery. But not all economists agree with him. Reuters
One of the harshest realities of America's slow economic recovery -- and there are many -- is the fact in spite of modest job growth, pay for workers is falling.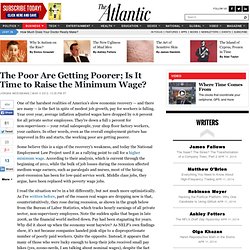 The Poor Are Getting Poorer. Is It Time to Raise the Minimum Wage? - Jordan Weissmann - Business
Why America spends while the world saves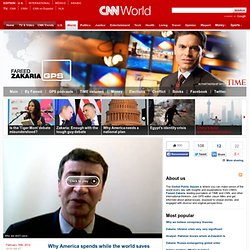 Editor's Note : The following is an edited transcript of my interview with Sheldon Garon, a professor of history and East Asian studies at Princeton University and author of the new book, Beyond Our Means: Why America Spends While the World Saves .
Exit from comment view mode. Click to hide this space
"The American Recovery" by Mohamed A El-Erian
A Nation of Spoiled Brats - Interview by David Rothkopf
Financial Times columnist Edward Luce has written a new book called Time to Start Thinking: America in the Age of Descent that has received well-deserved acclaim and recognition not only for its superb reporting of the on-ground reality of America's current economic crisis but also because it is an unflinchlingly brave book.
Exit from comment view mode.
"The Energy Deficit" by Michael Spence
The Spectacular Rise and Fall of U.S. Whaling: An Innovation Story - Derek Thompson - Business
An extinct business offers surprisingly current lessons about the triumph of technology, the future of work, and the inevitable decline of industries that might not be worth saving
Robin Harding and John-Paul Rathbone insist that the United States is feeling pressure from the developing world over the World Bank leadership question. They also think the dynamic surrounding the Bank leadership race is quite different than it was in the case of the International Monetary Fund: In contrast to the recent battle to lead the International Monetary Fund, which was never in real doubt as French finance minister Christine Lagarde raced around the world to secure support, developing countries are organised to challenge a procession to the World Bank presidency.
Is the U.S. feeling pressure about the World Bank presidency?
A qualified defense of national privilege
Housed
What Export-Oriented America Means - Tyler Cowen
United States' economy: Over-regulated America
Gray Nation: The Very Real Economic Dangers of an Aging America - Derek Thompson - Business
The Two Issues That Can Bring Down the Economy
"Fed Policy and Inflation Risk" by Martin Feldstein
Manufacturing Illusions)
Can Radical Efficiency Revive U.S. Manufacturing?