History of the Current Crisis
The European: How did you get into researching choice and decision making? Schwartz: For many years, I have been interested in the hold that the ideology of free market, economics has on people throughout the developed Western world. Why is it that everyone thinks that it's a miracle of human intervention?
Barry Schwartz | Decision-making and Economics - The Paradox of Choice | The European Magazine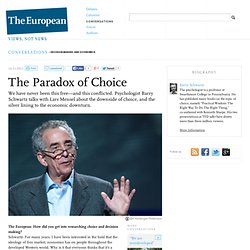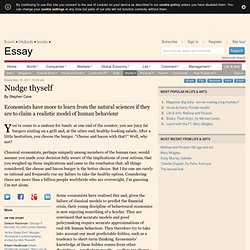 Economists have more to learn from the natural sciences if they are to claim a realistic model of human behaviour Y ou've come to a canteen for lunch: at one end of the counter, you see juicy fat burgers sizzling on a grill and, at the other end, healthy-looking salads. After a little hesitation, you choose the burger.
Nudge thyself
How We Were All Misled by John Lanchester
Steffen Kugler/The New York Times/Redux French President Nicolas Sarkozy, former Greek Prime Minister George Papandreou, and German Chancellor Angela Merkel, Brussels, July 2011 Most people with a special interest in the events of the credit crunch and the Great Recession that followed it have a private benchmark for the excesses that led up to the crash.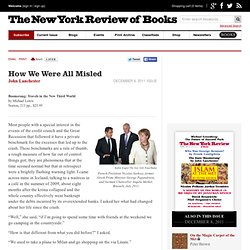 John Maynard Keynes, who never tried to conceal that he knew more than most people, also knew the limits to his knowledge. He wrote "about these matters – the prospect of a European war, the price of copper 20 years hence – there is no scientific basis on which to form any calculable probability whatever. We simply do not know."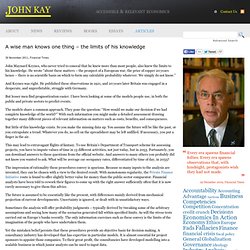 A wise man knows one thing – the limits of his knowledge
What this transition meant, however, is that jobs and livelihoods on the farm were being destroyed. Because of accelerating productivity, output was increasing faster than demand, and prices fell sharply. It was this, more than anything else, that led to rapidly declining incomes.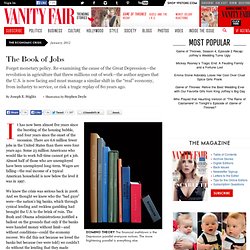 John Lanchester · The Art of Financial Disaster · LRB 15 December 2011
No essay in English has a better title than De Quincey's 'On Murder Considered as One of the Fine Arts'. I wonder whether, if he were alive today, he might be tempted to go back to the well and write a follow-up, 'On Financial Disaster Considered as One of the Fine Arts'? The basic material might be less immediately captivating, but there's a lot to choose from. As Warren Buffett has pointed out more than once, 'It's only when the tide goes out that you learn who's been swimming naked.' Financial and economic downturns always cause a rash of scandals and exposure. The tide has gone out – it's still going out – and, frankly, it's hard to know where to look.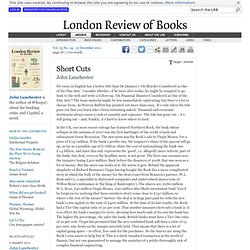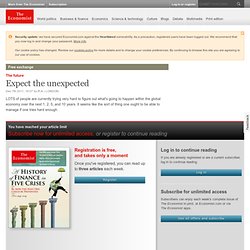 LOTS of people are currently trying very hard to figure out what's going to happen within the global economy over the next 1, 2, 5, and 10 years. It seems like the sort of thing one ought to be able to manage if one tries hard enough. It is, however, an impossible task (though some folks do have a talent for sketching out broad trends). I've been reminded of the futility of prognostication in doing a bit of research for a piece that will appear in the next print edition of The Economist . That research has taken me into our archives, to see what we were writing in 1931.
The future: Expect the unexpected
'That's Not A Free Market, That's A Game' | The Browser
Top economists reveal their graphs of 2011
Book Review: Why Nations Fail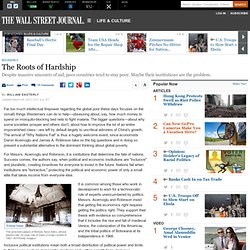 By WILLIAM EASTERLY Far too much intellectual firepower regarding the global poor these days focuses on the (small) things Westerners can do to help—obsessing about, say, how much money to spend on mosquito-blocking bed nets to fight malaria. The bigger questions—about why some societies prosper and others don't, about how to improve the lot of an entire impoverished class—are left by default largely to uncritical admirers of China's growth. The arrival of "Why Nations Fail" is thus a hugely welcome event, since economists Daron Acemoglu and James A. Robinson take on the big questions and in doing so present a substantial alternative to the dominant thinking about global poverty.
Let's get on to your last book, which you've chosen because it best expresses outrage about what happened: Griftopia by Matt Taibbi. Matt Taibbi is the poet laureate of vitriol. There is no one better to capture the gestalt of the country's angst, fury, and anger, and how upset people are that, essentially, these banks blew themselves up, and then managed to twist Congress's arm to give them billions of dollars, much of which, by the way, has not been repaid. Every time I see some idiot say all the TARP [Troubled Asset Relief Program] and bailouts have been repaid, it's nonsense. Even if you count all the Citigroup stock, all the Bank of America stock and the GM stock – none of which you can really sell because you'll crush the stock price – we're not back to break-even.
Barry Ritholtz on Causes of the Financial Crisis
Too Smart to Fail
It was the holy grail of investors. The Black-Scholes equation , brainchild of economists Fischer Black and Myron Scholes, provided a rational way to price a financial contract when it still had time to run. It was like buying or selling a bet on a horse, halfway through the race. It opened up a new world of ever more complex investments, blossoming into a gigantic global industry.
The mathematical equation that caused the banks to crash | Science | The Observer