Physics
Weird Science: Cold Fusion links
info_equation_tables_2002.pdf (application/pdf Object)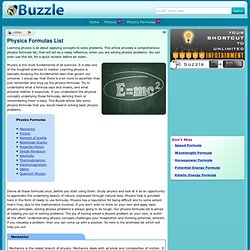 Physics is the most fundamental of all sciences. It is also one of the toughest sciences to master. Learning physics is basically studying the fundamental laws that govern our universe. I would say that there is a lot more to ascertain than just remember and mug up the physics formulas. Try to understand what a formula says and means, and what physical relation it expounds. If you understand the physical concepts underlying those formulas, deriving them or remembering them is easy.
Physics Formulas List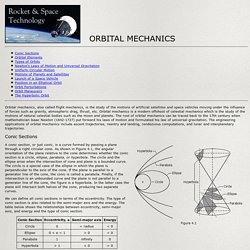 Orbital mechanics , also called flight mechanics, is the study of the motions of artificial satellites and space vehicles moving under the influence of forces such as gravity, atmospheric drag, thrust, etc. Orbital mechanics is a modern offshoot of celestial mechanics which is the study of the motions of natural celestial bodies such as the moon and planets. The root of orbital mechanics can be traced back to the 17th century when mathematician Isaac Newton (1642-1727) put forward his laws of motion and formulated his law of universal gravitation. The engineering applications of orbital mechanics include ascent trajectories, reentry and landing, rendezvous computations, and lunar and interplanetary trajectories. Conic Sections A conic section , or just conic , is a curve formed by passing a plane through a right circular cone.
Basics of Space Flight: Orbital Mechanics
Cold Fusion Now' s Jeremy Rys' videos of the lectures Videos of the lectures at 'LENR Cold Fusion Site' Slide Set of NANOR ® type output presented at MIT IAP Course 2012 (pdf) Dr.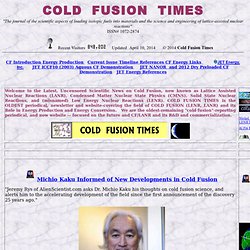 COLD FUSION TIMES