Psychology 2
The controversial science of free will. These days, we seem to be living in a new golden age of choice.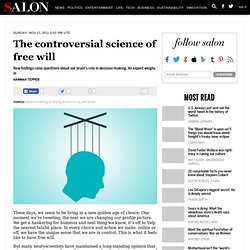 One moment we're tweeting, the next we are changing our profile picture. We get a hankering for hummus and next thing we know, it's off to Yelp the nearest falafel place. In every choice and action we make, online or off, we have the unique sense that we are in control. This is what it feels like to have free will. But many neuroscientists have maintained a long-standing opinion that what we experience as free will is no more than mechanistic patterns of neurons firing in the brain. The evolution of deceit. Not long ago, a young man drove onto Robert Trivers' Jamaica property.
Suspicious of the man's sudden appearance, and convinced he was intent on either extorting money from him or robbing him, Trivers, a Rutgers professor, confronted him about his identity. His first name, the man said, was Steve. "What's your last name?" Trivers asked. The science behind disgust. We all have things that disgust us irrationally, whether it be cockroaches or chitterlings or cotton balls.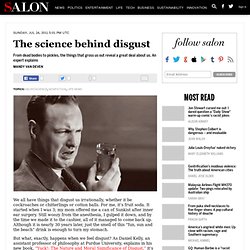 For me, it's fruit soda. It started when I was 3; my mom offered me a can of Sunkist after inner ear surgery. Still woozy from the anesthesia, I gulped it down, and by the time we made it to the cashier, all of it managed to come back up. Although it is nearly 30 years later, just the smell of this "fun, sun and the beach" drink is enough to turn my stomach.
How music changes our brains - Science is becoming increasingly interested in the relationship between sound and the brain. An expert explains. Music has never been more accessible.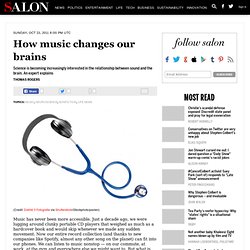 Just a decade ago, we were lugging around clunky portable CD players that weighed as much as a hardcover book and would skip whenever we made any sudden movement. Now our entire record collection (and thanks to new companies like Spotify, almost any other song on the planet) can fit into our phones. We can listen to music nonstop — on our commute, at work, at the gym and everywhere else we might want to. Are Corporate Leaders Psychopaths? It is a well-known fact that our society is structured like a pyramid.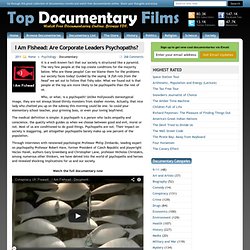 The very few people at the top create conditions for the majority below. Who are these people? Can we blame them for the problems our society faces today? Theory behind the Freudian slip confirmed by experiments, new research claims. By Daily Mail Reporter Published: 14:45 GMT, 18 June 2012 | Updated: 14:45 GMT, 18 June 2012 I told you: The theory behind Sigmund Freud's Freudian slips has been proven, claims new research.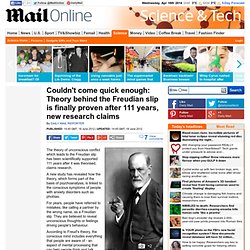 People can be trained to forget bad memories in potential breakthrough for emotional disorders. By Daily Mail Reporter Published: 11:48 GMT, 21 June 2012 | Updated: 11:48 GMT, 21 June 2012 People can be trained to forget bad memories, according to new research which could herald a breakthrough in the treatment of post-traumatic stress disorder.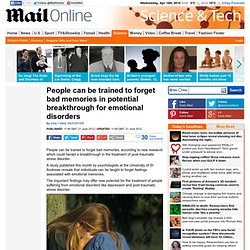 A study published this month by psychologists at the University of St Andrews reveals that individuals can be taught to forget feelings associated with emotional memories. The important findings may offer new potential for the treatment of people suffering from emotional disorders like depression and post-traumatic stress disorder. So Begins A Quiet Revolution Of The 50 Percent. Field Guide to the Loner: The Real Insiders - StumbleUpon. Miina Matsuoka lives by herself in New York City.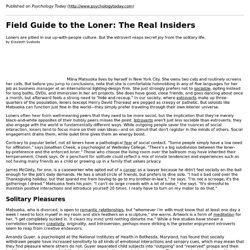 She owns two cats and routinely screens her calls. But before you jump to conclusions, note that she is comfortable hobnobbing in any of five languages for her job as business manager at an international lighting-design firm. She just strongly prefers not to socialize , opting instead for long baths, DVDs, and immersion in her art projects. She does have good, close friends, and goes dancing about once a month, but afterward feels a strong need to "hide and recoup. " In our society, where extroverts make up three-quarters of the population, loners (except Henry David Thoreau) are pegged as creepy or pathetic. Networking For Introverts. The Secret Power Of Introverts. The Irrationality of Irrationality: The Paradox of Popular Psychology | Guest Blog. In 1996, Lyle Brenner, Derek Koehler and Amos Tversky conducted a study involving students from San Jose State University and Stanford University.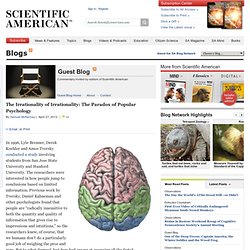 The researchers were interested in how people jump to conclusions based on limited information. Previous work by Tversky, Daniel Kahneman and other psychologists found that people are "radically insensitive to both the quantity and quality of information that gives rise to impressions and intuitions," so the researchers knew, of course, that we humans don't do a particularly good job of weighing the pros and cons. But to what degree? Just how bad are we at assessing all the facts? To find out, Brenner and his team exposed the students to legal scenarios. Better Safe Than Sorry: Why We Believe In Tempting Fate [Excerpt] The following is an excerpt from The 7 Laws of Magical Thinking: How Irrational Beliefs Keep Us Happy, Healthy and Sane, by Matthew Hutson (Hudson Street Press, 2012).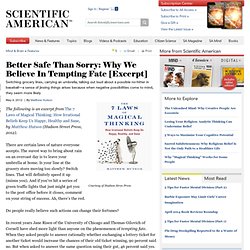 There are certain laws of nature everyone accepts. The surest way to bring about rain on an overcast day is to leave your umbrella at home. Is your line at the grocery store moving too slowly? Switch lines. That will definitely speed it up (minus you).
---