Réseaux sociaux THG
Hunger Games : les médias sociaux remportent la partie. Film futuriste où des adolescents se combattent à mort dans un jeu télévisé, Hunger Games réalise un indéniable carton au box-office américain.
Dans ce succès d'audience, les médias sociaux ont été une efficace cheville ouvrière pour la société de production Lionsgate. Analyse. Elle s'appelle Katniss. Social Media Supports 'Hunger Games' More Than 'Twilight,' Less Than 'Potter' [CHARTS] Social media users are more positive about the upcoming Hunger Games movie than they were about the final installment of Harry Potter, but not quite as stoked as they were for the first Twilight: Breaking Dawn film.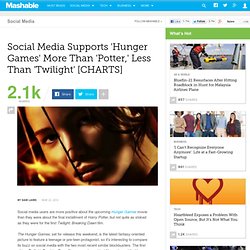 The Hunger Games, set for release this weekend, is the latest fantasy-oriented picture to feature a teenage or pre-teen protagonist, so it's interesting to compare its buzz on social media with the two most recent similar blockbusters. The first of two Twilight: Breaking Dawn films was released last November, while Harry Potter and the Deathly Hallows Part 2 debuted in July.
Mashable tapped social media analysis company Fizziology to look at sentiment on Twitter, Facebook and blogs for the Hunger Games. Here are highlights of their findings: Facebook. Twitter. Twitter.
---