THE HOLOCAUST
Fake Epidemic Saves Jews in Village from Nazis
Holocaust - Holocaust Rescuers - Dr. Creates Fake Epidemic and Saves a Village In a time when innocent people were brutally murdered only for their nationality and religion, one soldier stands out among the rest. He defied the Germans, repeatedly risking his life to save the lives of thousands. Dr. Eugene Lazowski is considered a hero to many, but for him, saving others was his only option—it was simply the right thing to do.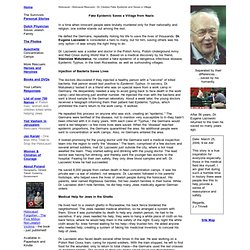 Joey Korn, Remember.org shares… Today is the anniversary of Dad's liberation of Buchenwald Concentration Camp in1945. Read ABE'S STORY and be prepared to change your life. Logo derived from drawing by William Fahnoe, who also did the Map illustrations. Introduction Abram Korn was 16 when the Nazis invaded his hometown of Lipno, Poland, on September 1, 1939, the first day of World War II.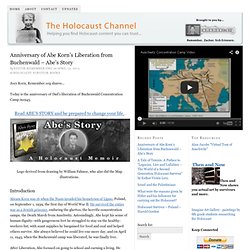 Holocaust Channel for Stories of Survivors | Holocaust Videos, Audios, and Research | Concentration Camps Auschwitz, Dachau, Maidenek, Majdenek, Birkenau...| Holocaust Art and Photos by Alan Jacobs | Adolf Hitler and the Nazis' History
"Here Their Stories Will Be Told…" The Valley of the Communities • About the Valley • Featured Communities • Virtual Tour About the Artifacts Collection The Story of the Jewish Community in Bratislava I Am My Brother's Keeper Marking 50 Years of Honoring Righteous Among the Nations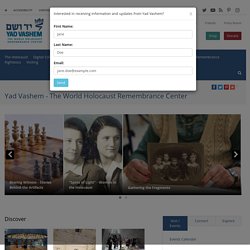 Holocaust Resources: An Annotated bibliography of archival holdings at the Center for Jewish History introduced by Prof. David Engel, and compiled by Emmanuel Darmon
holocaustresources.cjh.org
Holocaust Cybrary remembering the Stories of the Survivors - Remember.org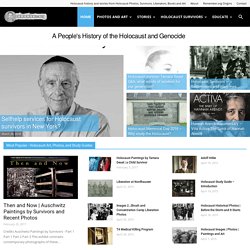 Remember.org shares art, discussion, photos, poems, and facts to preserve powerful memories, like A Survivor's Prayer to millions of visitors since 1994. Education: History, Lesson Plans, and Resources Learn the facts through lesson plans, research and timelines, including our Teacher's Guide to the Holocaust. Books by Survivors Listen to survivors through books.