THE HOLOCAUST
Fake Epidemic Saves Jews in Village from Nazis. Holocaust - Holocaust Rescuers - Dr.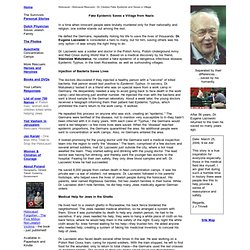 Creates Fake Epidemic and Saves a Village In a time when innocent people were brutally murdered only for their nationality and religion, one soldier stands out among the rest. He defied the Germans, repeatedly risking his life to save the lives of thousands. Dr. Eugene Lazowski is considered a hero to many, but for him, saving others was his only option—it was simply the right thing to do.
Holocaust Channel for Stories of Survivors | Holocaust Videos, Audios, and Research | Concentration Camps Auschwitz, Dachau, Maidenek, Majdenek, Birkenau...| Holocaust Art and Photos by Alan Jacobs | Adolf Hitler and the Nazis' History. Yad Vashem - The Holocaust Martyrs' and Heroes' Remembrance Authority.
Holocaustresources.cjh.org. Holocaust Cybrary remembering the Stories of the Survivors - Remember.org. United States Holocaust Memorial Museum.
---