Videos et trailers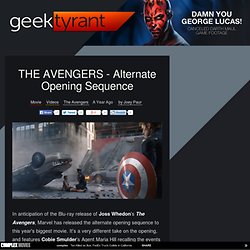 In anticipation of the Blu-ray release of Joss Whedon 's The Avengers , Marvel has released the alternate opening sequence to this year's biggest movie. It's a very different take on the opening, and features Cobie Smulder 's Agent Maria Hill recalling the events of the narrative through a flashback, she isn't really happy with Nick Fury either. It's actually not that bad of an opening, but I can see why they changed it up. The movie will be released on Blu-ray and DVD on September 25th.
THE AVENGERS - Alternate Opening Sequence
Marvel's The Avengers TV Spot 14
New Marvel's The Avengers TV Spot
THE AVENGERS - Extended 'Iron Man' TV Spot (SD)
Avengers - Featurette - Black Widow VOSTF
8th Avengers Clip Features Captain America and Agent Coulson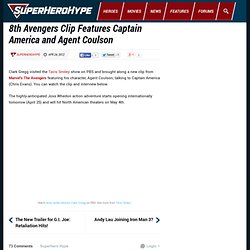 Clark Gregg visited the Tavis Smiley show on PBS and brought along a new clip from Marvel's The Avengers featuring his character, Agent Coulson, talking to Captain America (Chris Evans). You can watch the clip and interview below. The highly-anticipated Joss Whedon action adventure starts opening internationally tomorrow (April 25) and will hit North American theaters on May 4th. Watch Actor-writer-director Clark Gregg on PBS. See more from Tavis Smiley.
New AVENGERS Film Clip with Bruce Banner and Black Widow
Here's another great film clip from Marvel's The Avengers featuring a tense moment between Bruce Banner ( Mark Ruffalo ) and Black Widow ( Scarlett Johansson ). This is an extension of a scene that we've seen in a few trailers in which Widow is trying to talk Banner into joining the team. The clip was shown a couple days ago on the Graham Norton Show . The avenger hit's theaters on May 4th, and I'm ready to see the Joss Whedon film in all of its epic glory!
New Iron Man Spot for Marvel's The Avengers
Thanks to Allocine , here is a look at two Iron Man and Thor TV spotd for Marvel's The Avengers . Robert Downey Jr. and Chris Hemsworth reprise their roles and are joined by Chris Evans, Mark Ruffalo, Scarlett Johansson, Jeremy Renner, Tom Hiddleston, Stellan Skarsgård, Cobie Smulders and Samuel L. Jackson in the highly-anticipated release. In the film, written and directed by Joss Whedon, an unexpected enemy emerges that threatens global safety and security. Nick Fury, Director of the international peacekeeping agency known as SHIELD, finds himself in need of a team to pull the world back from the brink of disaster. Spanning the globe, a daring recruitment effort begins.
Marvel's The Avengers: Counting Down - Thor
Marvel's The Avengers: Iron Man Mark VII
Exclusive 'Avengers' Clip: Head Count | Video
The Avengers | TV Spot - Isolated HD
[FW-BC3] Viral Player
The Avengers - TV Spot (Suit Up)
The Avengers Clip #2 - "Maria Hill"
TheAvengers_TVSpot_FightNR
Marvels The Avengers - Clip 1 - Black Widow (HD)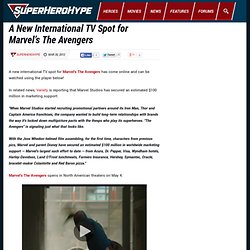 A new international TV spot for Marvel's The Avengers has come online and can be watched using the player below! In related news, Variety is reporting that Marvel Studios has secured an estimated $100 million in marketing support: "When Marvel Studios started recruiting promotional partners around its Iron Man, Thor and Captain America franchises, the company wanted to build long-term relationships with brands the way it's locked down multipicture pacts with the thesps who play its superheroes. "The Avengers" is signaling just what that looks like. With the Joss Whedon-helmed film assembling, for the first time, characters from previous pics, Marvel and parent Disney have secured an estimated $100 million in worldwide marketing support -- Marvel's largest such effort to date -- from Acura, Dr.
A New International TV Spot for Marvel's The Avengers
Source: IMAX Corporation March 22, 2012 No new footage, but still cool. Here's the new IMAX 3D spot for Marvel's The Avengers , hitting the large format theaters simultaneously with the release in 3D and 2D theaters on May 4.
The IMAX 3D Spot for Marvel's The Avengers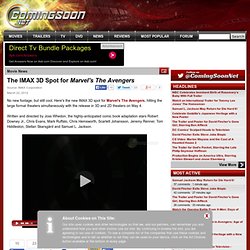 Marvel's The Avengers - Official Japanese Trailer #2
The Avengers Trailer
Avengers super bowl tv spot
Marvel's The Avengers Super Bowl XLVI Commercial - Teaser
Marvel´s THE AVENGERS (2012) - offizieller zweiter Trailer - deutsch
The Avengers International Teaser Trailer
Marvel's The Avengers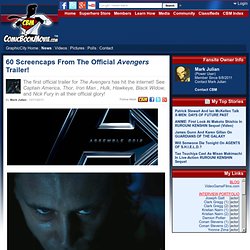 The Avengers is a team of superheroes, appearing in magazines published by Marvel Comics. The team made its debut in The Avengers #1 (Sept. 1963), and was created by writer-editor Stan Lee and artist / co-plotter Jack Kirby, following the trend of super-hero teams after the success of DC Comics with the Justice League. The Avengers is an upcoming American superhero film produced by Marvel Studios and distributed by Walt Disney Pictures, based upon the Marvel Comics superhero team of the same name. It is part of the Marvel Cinematic Universe, which crosses over several Marvel superhero films including Iron Man (2008), The Incredible Hulk (2008), Iron Man 2 (2010), Thor (2011) and Captain America: The First Avenger (2011). The film is written and directed by Joss Whedon and features an ensemble cast, which includes Robert Downey, Jr., Chris Evans, Chris Hemsworth, Tom Hiddleston, Samuel L.
60 Screencaps From The Official Avengers Trailer!
News: Tease Of New 'Avengers' Trailer; Iron Man's Suit Revealed | Latino Review
The Avengers TV Spot #4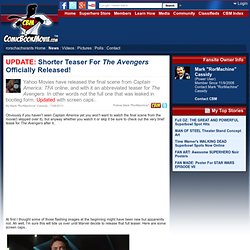 Shorter Teaser For The Avengers Officially Released!
Obviously if you haven't seen Captain America yet you won't want to watch the final scene from the movie(I skipped over it), but anyway whether you watch it or skip it be sure to check out the very brief tease for The Avengers after it.. At first I thought some of those flashing images at the beginning might have been new but apparently not. Ah well, I'm sure this will tide us over until Marvel decide to release that full teaser.
The promotional campaign which began at last month's Chicago Comics and Entertainment Expo was expanded upon at this weekend's WonderCon exhibit with hints at S.H.I.E.L.D.'s involvement in The Avengers . Marvel took their S.H.I.E.L.D. display to this weekend's WonderCon expo in San Fransisco, California. Aside from handing out custom S.H.I.E.L.D. agent badges to attendees, they presented a recruitment video for the clandestine organization (featured below) which showed glimpses of Thor's magical hammer Mjolnir landing on Earth and a brief tease of Tony Stark's "Hulkbuster" Iron Man armor which is rumored to have an appearance in the upcoming ensemble superhero film The Avengers . The Hulkbuster armor is a heavy-duty exo-frame designed for maximum strength amplification at the cost of reduced versatility and mobility.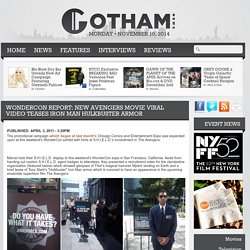 WonderCon Report: New AVENGERS Movie Viral Video Teases Iron Man Hulkbuster Armor