TERRORISM
VOICES of September 11th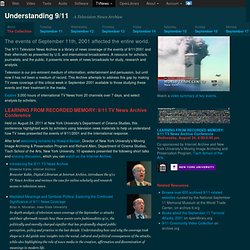 The events of September 11th, 2001 affected the entire world. The 9/11 Television News Archive is a library of news coverage of the events of 9/11/2001 and their aftermath as presented by U.S. and international broadcasters. A resource for scholars, journalists, and the public, it presents one week of news broadcasts for study, research and analysis. Television is our pre-eminent medium of information, entertainment and persuasion, but until now it has not been a medium of record. This Archive attempts to address this gap by making TV news coverage of this critical week in September 2001 available to those studying these events and their treatment in the media.
Prophet of Doom - Islam's Terrorist Dogma in Muhammad's Own Words
The NEFA Foundation
Enter your search term(s) using AND, OR, NOT and parentheses. Surround an exact phrase with quotation marks. NEFA Home Special Reports
International Institute for Counter-Terrorism
WITS NextGen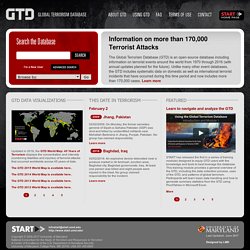 The GTD 2012 WebGL Globe is an interactive geographic visualization, currently in beta, that plots the location and frequency of terrorist attacks worldwide. It was developed by START using the WebGL Globe open platform created by the Google Data Arts Team. The GTD 2012 World Map displays the concentration and intensity (combining fatalities and injuries) of terrorist attacks that occurred worldwide in 2012.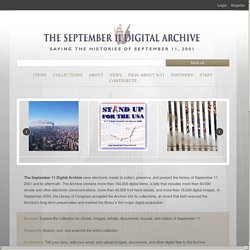 The September 11 Digital Archive uses electronic media to collect, preserve, and present the history of September 11, 2001 and its aftermath. The Archive contains more than 150,000 digital items, a tally that includes more than 40,000 emails and other electronic communications, more than 40,000 first-hand stories, and more than 15,000 digital images. In September 2003, the Library of Congress accepted the Archive into its collections, an event that both ensured the Archive's long-term preservation and marked the library's first major digital acquisition. Browse: Explore the collection for stories, images, emails, documents, sounds, and videos of September 11