Façade atlantique AmNord
Port de Bâton Rouge, photos
Tanker Oliva offloading at LOOP. LOOP Pumping Platform Complex. Description[edit] Tankers offload at LOOP by pumping crude oil through hoses connected to a Single Point Mooring (SPM) base. Three SPMs are located 8,000 feet (2.4 km) from the Marine Terminal. The SPMs are designed to handle ships up to 700,000 deadweight tons (635,000 metric tonnes).
Louisiana Offshore Oil Port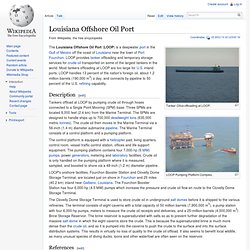 MIT - Massachusetts Institute of Technology
Bombardier Inc.
Bell Canada Entreprises 
Fleuve Saint-Laurent
Un article de Wikipédia, l'encyclopédie libre. Toponymie[modifier | modifier le code] Jacques Cartier attribue d'abord ce nom, le jour de la fête de Laurent de Rome, fêté le 10 août, lors de son deuxième voyage en 1535-1536, à l'embouchure du fleuve qu'il croit alors être un simple golfe de la Côte-Nord : la « baye sainct Laurens ». Par suite, il s'aperçoit de son erreur et remonte ce que les Autochtones désignent sous le nom de « la Rivière qui marche », et qu'il baptise « Grand fleuve de Hochelaga »[3],[4].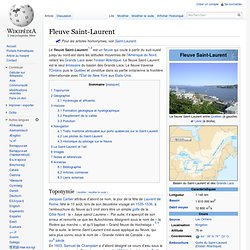 Jour de flânerie et que tombent les heures de doute ___________________________je me fais un rêve je me crée une réalité je me donne un regard nouveau je jongle avec les heures je rêve plus de bonheur je n'agrandis plus mon territoire j'explore plus que je n'observe je cherche en peu de temps l'inconnu je ne m'accable plus de désirs éphémères je ne compte plus les printemps que je voudrais encore voir venir je ne m'accroche plus aux figures de styles je lis dans la vie telle qu'elle se présente je doute___________________________ L'errance devient mon territoire d'asile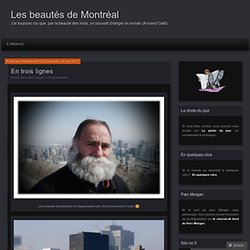 Les beautés de Montréal
siège du FMI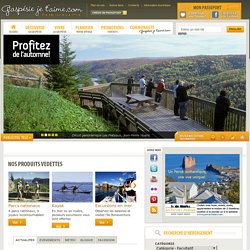 La Gaspésie
Du 28 juin au 28 septembre 2014 Le Festival international de jardins propose 27 jardins (la plus importante sélection à ce jour) conçus par des designers de Montréal, Toronto et Winnipeg ainsi que des États-Unis, du Brésil, de la France, de l'Allemagne, des Pays-Bas et du Royaume-Uni. Des jardins extra-muros seront installés à Londres, à Montréal, sur la Place de la Dauversière ainsi qu'à Sainte-Flavie et Mont-Joli. Inauguré en 2000, le Festival international de jardins est présenté sur un site adjacent aux Jardins de Métis. Forum unique d'innovation et d'expérimentation, le Festival a proposé à ce jour plus de 130 jardins éphémères conçus par quelque 500 designers en provenance de 14 pays. Cet événement artistique permet aux visiteurs de découvrir des lieux d'inspiration qui permettent une interaction entre les arts visuels, l'architecture, le design, le paysage et la nature.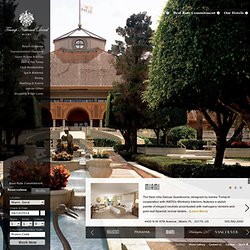 N Trump International Hotel & Tower Toronto® is pleased to announce that it has been awarded Five-Star ratings from the prestigious Forbes Travel Guide 2014, recognizing the property's exceptional service and world-class amenities . . . (Learn More) Y Unwind with city views from Trump International Hotel & Tower Toronto's® luxurious suites in downtown Toronto, some of the largest in the city. . . (Learn More) Y There are some things you just can't overdo.
Doral Resort PGA Golf South Florida
Cancun
National Air and Space Museum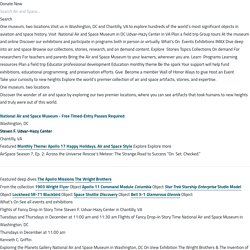 Our Museum holds many objects related to the first successful lunar landing mission, Apollo 11. Visit our Apollo 11 collection group. The Baron Hilton Pioneers of Flight Gallery celebrates people who have pushed the technological and social limits of flight. Learn more. Our scientists use radar to peek below Venus' thick atmosphere and map its rocky surface.
Harvard University