Téléphonie IP
Pour téléphoner, ou faire de la visio, gratuitement sur son forfait data.
Livephone. OFFRE SPÉCIALE: VOS APPELS INTERNATIONAUX GRATUITS VERS TOUS LES FIXES ET LES MOBILES !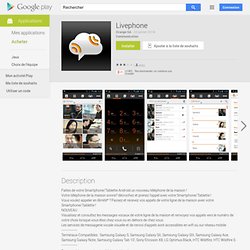 BÉNÉFICIEZ DE CETTE OFFRE AVANT MAINTENANT:• REJOIGNEZ LIBON MAINTENANT• OBTENEZ 60 MINUTES GRATUITES PAR MOIS, PENDANT 3 MOIS• APPELEZ PLUS DE 90 PAYS*: En Inde, Asie, Europe, Amérique du Sud et du Nord, Afrique et bien plus encore ! NOUVEAU DANS LIBON : T'CHATEZ AVEC TOUS VOS AMIS ! Découvrez en exclusivité la nouvelle fonctionnalité Libon : le t'chat avec tous vos amis ! VRAIMENT tous vos amis ! Fring. Free messages, Free Calls.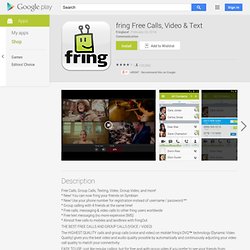 Unlimited! Now, call and send messages as much as you want! Nimbuzz Messenger combines the power of internet and smart phone messenger into one, and lets you make cheap international voice calls, send unlimited chat messages, share files on any mobile device across popular messengers. Nimbuzz Messenger is available on Android, iOS, Windows Phone, Blackberry, Symbian, Java, Windows and Mac.
Viber : Free Calls & Messages. ★ In many ways better than Skype, Viber, Tango, Vonage, Whatsapp ★ ★ Absolutely Ads Free!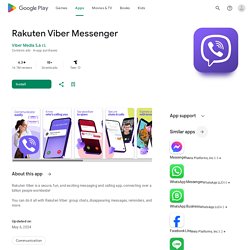 ★ ★ NO NEED to apply for account ★ ★ Can choose to display or hide the Caller ID ★ ★ Great voice quality at very LOW VoIP call rates for US and international calls★ ★ Best Call Recorder - record phone calls freely★ ★ 30 cents free gift credit to start★ ★ Pay As You Go with Google Wallet ★ ★ Buy More Get More ★ ************************************* buy $20 get $1 gift credit buy $50 get $5 gift credit buy $100 get $15 gift credit************************************* -----Customer REVIEWS----- "Great phone.
I use lots of phone ups and this one works wonderful. Appels vidéo et conversation vidéo Android. Vous pouvez faire tant de choses avec Skype : raconter une histoire pour s'endormir, tenir une réunion ou prendre un cours de langue… Voici quelques-uns des avantages dont vous pouvez bénéficier : appels gratuits entre utilisateurs Skype ;appels économiques vers des lignes fixes et mobiles, et SMS à tarif avantageux ;appels vidéo vers vos contacts ;messagerie instantanée avec votre famille, vos amis et vos collègues.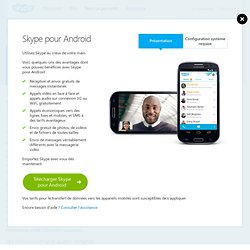 Pour commencer, il vous suffit de Skype 4.2 pour Linux, d'une webcam pour les appels vidéo et d'un micro.
---