Téléphonie IP
pour téléphoner, ou faire de la visio, gratuitement sur son forfait data. loic.somb Dec 30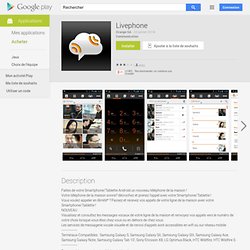 - L'application Libon vous fait découvrir le répondeur surdoué ! - Surprenez vos amis avec des annonces d'accueil personnalisées - Ne perdez pas de temps : lisez vos messages vocaux avec la fonctionnalité de transcription de messages* - Appels gratuits et t'chat illimités, vers vos contacts Libon partout dans le monde - Retrouvez toutes vos conversations avec tous vos contacts (appels, messages textes, t'chat...) sur un seul écran- Et bien plus encore ! *ILS EN PARLENT* Le Point: "Libon - En plus d'un service de voix sur IP, cette messagerie vocale visuelle bluffante est capable de transcrire les messages vocaux déposés par vos correspondants."
Livephone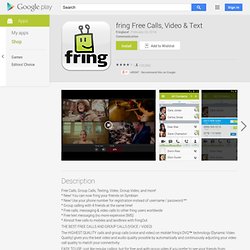 ***Holiday Gift*** FREE calls to 20 destinations (including US, UK, Mexico and India) for your first 24 hours on TextMe. Valid from now until January 3, 2014 .*** Countries included in the offer : United States, Canada, Mexico, France, United Kingdom, Germany, Spain, Italy, Belgium, Greece, Ireland, Sweden, Denmark, India, Israel, China, South Korea, Singapore, Malaysia, Hong Kong *
fring
With Viber, everyone in the world can connect. Freely. More than 200 million Viber users text, call, and send photo and video messages worldwide over Wifi or 3G - for free. Viber Out can be used to make calls to non-Viber mobile and landline numbers at low rates. Viber is available for many smartphones and platforms.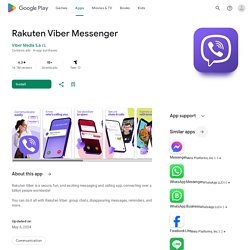 Appels vidéo et conversation vidéo Android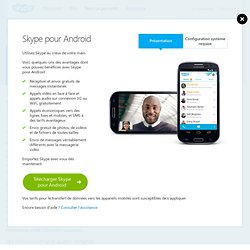 Vous pouvez faire tant de choses avec Skype : raconter une histoire pour s'endormir, tenir une réunion ou prendre un cours de langue… Voici quelques-uns des avantages dont vous pouvez bénéficier : appels gratuits entre utilisateurs Skype ;appels économiques vers des lignes fixes et mobiles, et SMS à tarif avantageux ;appels vidéo vers vos contacts ;messagerie instantanée avec votre famille, vos amis et vos collègues. Pour commencer, il vous suffit de Skype 4.2 pour Linux, d'une webcam pour les appels vidéo et d'un micro.