Tees
Super t shirt punk pour fille The Distillers, le logo du groupe avec la tête. T shirt The Distillers "Face" pour homme.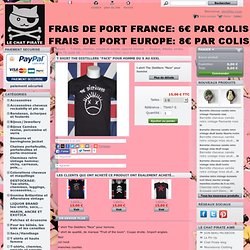 T shirt de qualité, de marque "Fruit of the loom". Coupe droite. Import anglais. Mens Retro Clothing, Indie Clothing, Rock Clothing - Indie, retro, rock, emo clothing, plus mens and womens Rock, Retro, Mod, Emo and Vintage style clothes and fashion. T.shirts sympas à acheter avec la police Helvetica. Streetwear - Streetwear Shiroi Neko T-shirt Heaven. Créer et imprimer son propre t-shirt.
Utilisez notre Designer pour créer votre tee shirt personnalisé.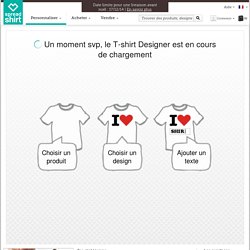 Des centaines de personnalisations de vêtements possibles pour tee shirt, sweat-shirt, tablier, etc. ! Spreadshirt vous permet d'exprimer votre propre message. Créez votre tee shirt en 4 étapes ultra-simples : 1. Créer, personnaliser mon tee-shirt. DBH. Itself T-shirts. Comboutique. Blog ac references. American Apparel | Men's Styles | Not-so-Basic T-Shirts. Online Boutique v2.0. Saturdays Surf NYC | Online Store. TEE SHIRT Bio équitable - Le TEE SHIRT fun et écolo - Tee-shirt Look.
---