Multimedia
Tedx Berkeley 2012. Today TEDx Berkeley 2012 kicked off at University of California at Berkeley's Zellerbach hall.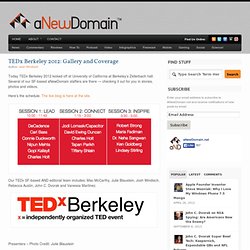 Several of our SF-based aNewDomain staffers are there — checking it out for you in stories, photos and videos. Here's the schedule.
Photos
Videos Shown at TEDxBerkeley 2012. TEDxBerkeley 2012. Dalai Lama & Desmond Tutu hang out on Google+ Travel,Ideas,Culture: Charles Holt's voice blows... Ira Serkes: #TEDxBerkeley #Berkeley "C... Alastair Goldfisher: Just watched a terrific pe... June Kim: Watch this now. RT @agoldf... Oliver Starr: Marco Tempest: The magic o...
---