TEDxBerkeley 2012
This pearltree is dedicated to the 2012 TedX Berkeley event. Please add pearls that related to the event itself, the speakers that presented, muiltimedia related to the event or commentary from those interested in Ted Events via tweets, etc.

This is an open pearltree, please accept all requests from those that wish to participate and add to the pearltree and the conversation about TedX Berkeley 2012. ostarr Feb 16
MUST SEE Documentary Films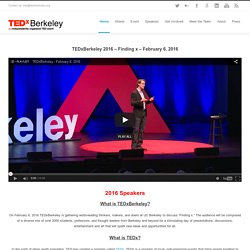 TEDxBerkeley - Inspiring Innovation -
TEDxBerkeley 2014 – "Rethink. Redefine. Recreate." – February 8, 2014 Check out the TEDxBerkeley 2014 videos on YouTube! What is TEDxBerkeley?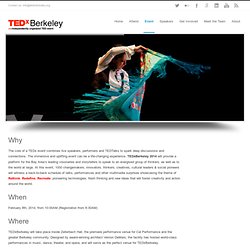 The core of a TEDx event combines live speakers, performers and TEDTalks to spark deep discussions and connections. The immersive and uplifting event can be a life-changing experience. TEDxBerkeley 2014 will provide a platform for the Bay Area's leading visionaries and storytellers to speak to an energised group of thinkers, as well as to the world at large. At this event, 1000 changemakers, innovators, thinkers, creatives, cultural leaders & social pioneers will witness a back-to-back schedule of talks, performances and other multimedia surprises showcasing the theme of Rethink.
Inspiring Innovation
TEDx Berkeley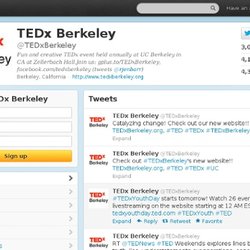 Language: English Bahasa Indonesia Bahasa Melayu
TEDx Berkeley (tedxberkeley) on Twitter
TEDxBerkeley on Facebook
What's one easy thing that you can do that would make a big difference in your health for life? Find out in today's TEDxBerkeley talk by Dr. Alan Greene. Alan Greene, MD is the Chief Medical Officer of Scanadu, the Deputy Editor of the Jo...urnal of Participatory Medicine, a practicing pediatrician, and a leading voice in health innovation. He is a graduate of Princeton University and the University of California at San Francisco. http://tedxberkeley.org/portfolio-item/dr-alan-greene
Get the most out of TEDxBerkeley
1. Arrive early. We encourage you to arrive at 9AM, an hour before the first speaker sessions begin. Arriving early means you'll be able to network with other incredible thinkers and doers. 2. Stay until the very end.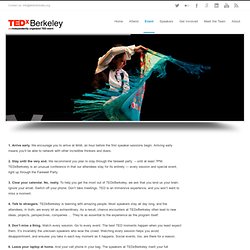 TEDxBerkeley 2012: Inspiring Innovation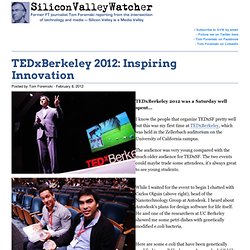 Posted by Tom Foremski - February 8, 2012 TEDxBerkeley 2012 was a Saturday well spent... I know the people that organize TEDxSF pretty well but this was my first time at TEDxBerkeley, which was held in the Zellerbach auditorium on the University of California campus.