Visualizadores
Data Visualisation Stuff. Mapize.com : Data Visualization & Mapping. 20 Essential Infographics & Data Visualization Blogs. In the tradition of Inspired Mag's huge lists, here goes a new one – all the blogs with cool data visualization eye candy in the same place!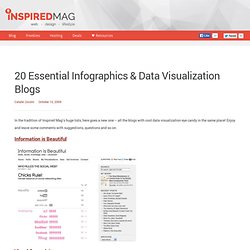 Enjoy and leave some comments with suggestions, questions and so on. Information is Beautiful Visual Compelxity Flowing Data Indexed. 14 examples of data visualization on the web. Trend spotting A series of websites use APIs and scrape pages to spot and analyze trends: Fan page analytics – Facebook fan page analytics Zoofs – Most talked about YouTube videos on twitter Fflick – Most tweeted movie titles Politics Ushahidi – creates a dynamic map of the flood emergency and where help is needed after the Haiti earthquake.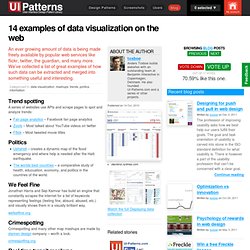 The worlds best countries – a comparative study of health, educuation, economy, and politics in the countries of the world.
---