Techonomics
Here you'll find core information about the tech industry and the economic principles behind it cvahanian May 4
Given all the faces you see glued to computers, tablets, and cell phones, you might think that people watch much less television than they used to. You would be wrong.
Netflix's War on Mass Culture
ARBITRAGE AND EQUILIBRIUM IN THE TEAM FORTRESS 2 ECONOMY | Valve
Arbitrage is the holy grail of every trader. The dream of buying low and selling high (for this is what arbitrage is all about) is the driver of all commerce but also its own worst enemy: for as everyone is trying to pursue it, the potential for arbitrage disappears. And when it does disappear totally, we have equilibrium (the holy grail of the economists).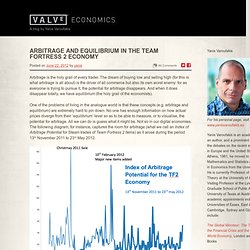 Warren Buffet once said: Buy into a business that's doing so well an idiot could run it, because sooner or later, one will. This is a useful way to understand the meaning of "equity value".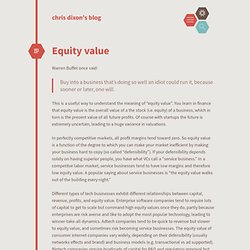 Equity value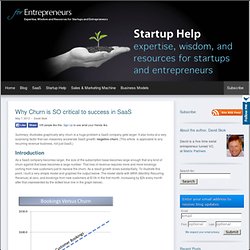 Summary: Illustrates graphically why churn is a huge problem a SaaS company gets larger. It also looks at a very surprising factor that can massively accelerate SaaS growth: negative churn. (This article is applicable to any recurring revenue business, not just SaaS.)
Why Churn is so critical to success in SaaS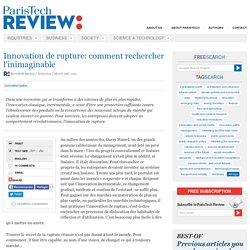 Au milieu des années 80, Garry Hamel, un des grands gourous californiens du management, avait jeté un pavé dans la mare : l'ère du progrès conventionnel et linéaire était révolue. Le changement n'était plus ni additif, ni linéaire. Il était discontinu.
"Let the products sell themselves... fuck advertising, commercial psychology ... psychological methods to sell should be destroyed." - The Minutemen, Shit From An Old Notebook We have enough data now to realize that display advertising on the Internet doesn't work. Some suggest click through rates are as low .09%, a shockingly low number.
The Golden Age of Internet Marketing?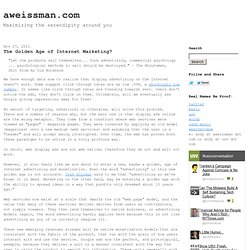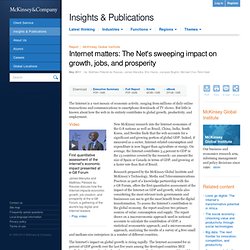 The Internet is a vast mosaic of economic activity, ranging from millions of daily online transactions and communications to smartphone downloads of TV shows.
Company - Report - Internet matters: The net's sweeping impact on growth, jobs, and prosperity - May 2011
A platform is a technology or product upon which many other technologies or products are built. Some platforms are controlled by a single corporation: e.g.
The importance of predictability for platform developers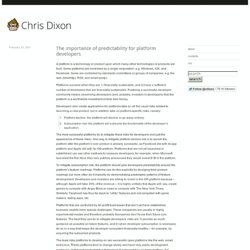 Free Software, Paid Support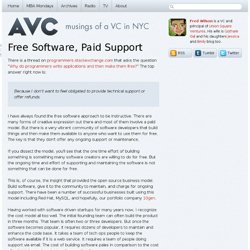 There is a thread on programmers.stackexchange.com that asks the question " Why do programmers write applications and then make them free?
The Unwelcome Return of Platform Dependencies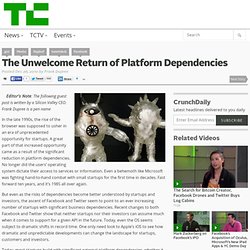 Editor's Note: The following guest post is written by a Silicon Valley CEO.
One of the amazing things about the internet economy is how different the list of top internet properties today looks from the list ten years ago. It wasn't as if those former top companies were complacent – most of them acquired and built products like crazy to avoid being displaced. The reason big new things sneak by incumbents is that the next big thing always starts out being dismissed as a "toy."
The next big thing will start out looking like a toy cdixon.org
The Web has hit a point where tracking pageviews is useless for startups. There was a time when all you needed to succeed on the Internet were lots and lots of eyeballs, and the best way of measuring those eyeballs was by tracking pageviews (measuring exactly which pages on a website are viewed by individual visitors). The dot-com crash showed us that the eyeball-based business model was a failure.
The Death of the Pageview - ReadWriteStart
Editor's note: Marc Benioff, chairman and CEO of salesforce.com, really loves Japan. And if you are a startup founder or tech executive, he thinks you should too. He explains why in this guest post, culled from observations from his most recent visit.
Why Japan Matters: iPad Mania, Cloud Computing, And Social Intel
The 15 Top Tech Takeover Targets