Blog posts
RailwayJS is a nice framework built on the same principle as Rails.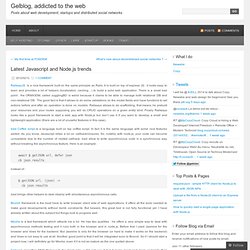 Javascript and Node.js last trends « Le Gelblog
I have been hacking on a project in Node.js/Express.js for some time now.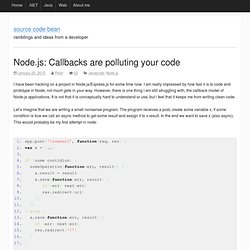 Callbacks are polluting your code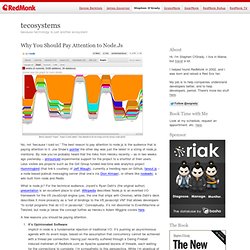 No, not "because I said so." The best reason to pay attention to node.js is the audience that is paying attention to it.
Meet the Next Big Programing Star - Node.js
The secrets of Node's success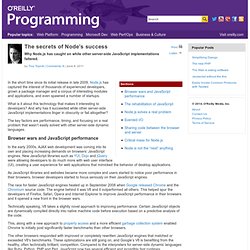 In the short time since its initial release in late 2009, Node.js has captured the interest of thousands of experienced developers, grown a package manager and a corpus of interesting modules and applications, and even spawned a number of startups. What is it about this technology that makes it interesting to developers? And why has it succeeded while other server-side JavaScript implementations linger in obscurity or fail altogether? The key factors are performance, timing, and focusing on a real problem that wasn't easily solved with other server-side dynamic languages.
Node.js is Important. An Introduction - PavingWays
Once in a while you come across a new technology and are just blown away by it. You feel that something like this should have been around much earlier and that it is (gonna be) a significant milestone, not just in your own live as a developer but in general.