Internet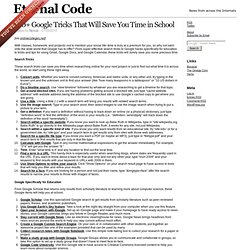 [via onlinecolleges.net] With classes, homework, and projects–not to mention your social life–time is truly at a premium for you, so why not latch onto the wide world that Google has to offer? From super-effective search tricks to Google hacks specifically for education to tricks and tips for using Gmail, Google Docs, and Google Calendar, these tricks will surely save you some precious time.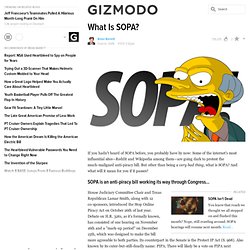 What Is SOPA?
"I am totally against piracy." I'm not. More specifically, it's legislation and unnecessary, questionable, immoral, unjust actions that have been taken that actually fuel my appreciation for the resiliency and security of online piracy. It's the fact that this SOPA bill doesn't have a remote chance of putting a dent in the piracy market, YET 2 bills are moving through our federal government for the sole interest of a handful of media companies.
Your Computing Devices Come and Go, Your Data is Forever: Ten Tips for Using the Cloud
How Online Reading Habits Have Changed Over 2010
One of the more subtle trends of 2010 has been the way that our reading habits have changed, due to a convergence of other Web trends: mobile apps, real-time Web (mostly Twitter), and social networking as a way to track news (mostly Facebook). In the previous era of the Web, the so-called Web 2.0, RSS Readers and start pages were all the rage. Over 2010, though, more people used tools like Twitter, Facebook, Instapaper, Flipboard, LazyWeb, Feedly and TweetDeck, to track news. Nowadays I'm more likely to find stories to read via a vertical aggregator (the media-focused Mediagazer is my current favorite) and save them to Instapaper for later reading via my iPhone or iPad. I still use Google Reader, but in all honesty I now use it more to scan than to read. Facebook & Twitter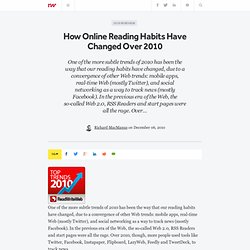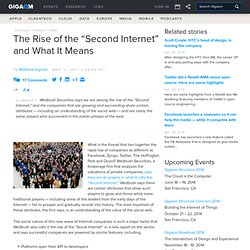 The Rise of the "Second Internet" and What It Means: Tech News and Analysis «
What is the thread that ties together the rapid rise of companies as different as Facebook, Zynga, Twitter, The Huffington Post and Quora? Wedbush Securities, a brokerage firm that analyzes the valuations of private companies, says they are all players in what it calls the "Second Internet." Wedbush says there are certain attributes that allow such players to grow and thrive while more traditional players — including some of the leaders from the early days of the Internet — fail to prosper and gradually recede into history. The most important of these attributes, the firm says, is an understanding of the value of the social web.