Technology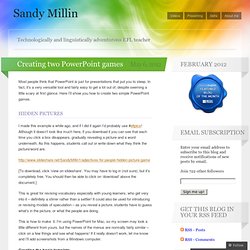 Most people think that PowerPoint is just for presentations that put you to sleep. In fact, it's a very versatile tool and fairly easy to get a lot out of, despite seeming a little scary at first glance. Here I'll show you how to create two simple PowerPoint games. Hidden Pictures I made this example a while ago, and if I did it again I'd probably use #eltpics!
Creating two PowerPoint games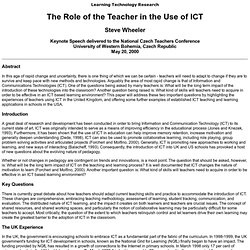 The Role of the Teacher in ICT...
Learning Technology Research Keynote Speech delivered to the National Czech Teachers Conference University of Western Bohemia, Czech Republic May 20, 2000 Abstract In this age of rapid change and uncertainty, there is one thing of which we can be certain - teachers will need to adapt to change if they are to survive and keep pace with new methods and technologies.
Jana says…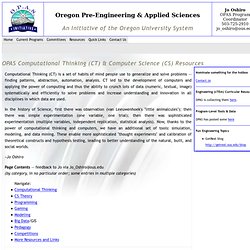 Oregon Pre-Engineering & Applied Science Initiative
Computational Thinking (CT) is a set of habits of mind people use to generalize and solve problems -- finding patterns, abstraction, automation, analysis. CT led to the development of computers and applying the power of computing and thus the ability to crunch lots of data (numeric, textual, image) systematically and efficiently to solve problems and increase understanding and innovation in all disciplines in which data are used. In the history of Science, first there was observation (van Leeuwenhoek's "little animalcules"); then there was simple experimentation (one variable, one trial); then there was sophisticated experimentation (multiple variables, independent replication, statistical analysis). Now, thanks to the power of computational thinking and computers, we have an additional set of tools: simulation, modeling, and data mining.
Překladač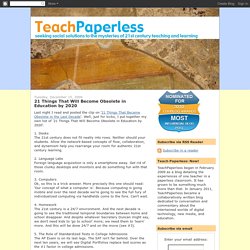 Last night I read and posted the clip on '21 Things That Became Obsolete in the Last Decade'. Well, just for kicks, I put together my own list of '21 Things That Will Become Obsolete in Education by 2020'. 1.
21 Things That Will Become Obsolete in Education by 2020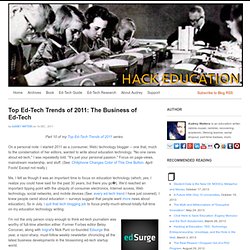 Top Ed-Tech Trends of 2011: The Business of Ed-Tech
Part 10 of my Top Ed-Tech Trends of 2011 series On a personal note: I started 2011 as a (consumer, Web) technology blogger -- one that, much to the consternation of her editors, wanted to write about education technology. "No one cares about ed-tech," I was repeatedly told.
Digital Learning Day is about giving every child the opportunity to learn in a robust digital environment everyday, with the goal of success in college and a career. We urge you to make a difference with digital learning in America's schools and take the pledge to support the effective use of technology to improve education for all students. In case you missed it, you can now watch the DLDay 2014 Where Policy Meets Practice Webcasts! Watch all or part of the day's events.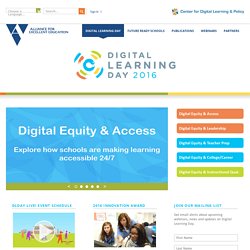 Home
+ Share this In January 2012, Latitude Research completed a multi-phase innovation study (published in collaboration with LEGO® Learning Institute and Project Synthesis), Robots @ School, asking kids across the world to illustrate and write a story that answers this question: "What would happen if robots were a part of your everyday life—at school and beyond?" Download the study summary (PDF) here.
Study: Robots Inspire New Learning & Creativity Possibilities for Kids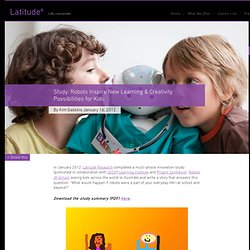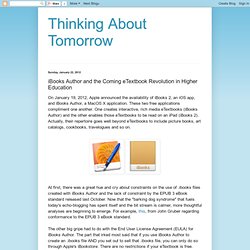 iBooks Author and the Coming eTextbook Revolution in Higher Education
On January 19, 2012, Apple announced the availability of iBooks 2, an iOS app, and iBooks Author, a MacOS X application. These two free applications compliment one another. One creates interactive, rich media eTextbooks (iBooks Author) and the other enables those eTextbooks to be read on an iPad (iBooks 2). Actually, their repertoire goes well beyond eTextbooks to include picture books, art catalogs, cookbooks, travelogues and so on.
PresentationTube
Network: The Secret Life of Your Personal Data, Animated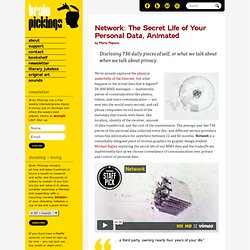 by Maria Popova Disclosing 736 daily pieces of self, or what we talk about when we talk about privacy. We've already explored the physical underbelly of the Internet, but what happens to the actual data that it digests? 28,000 MMS messages — multimedia pieces of communication like photos, videos, and voice communication — are sent into the world every second, and cell phone companies record much of the metadata that travels with them, like location, identity of the receiver, amount of data transferred, and the cost of the transmission.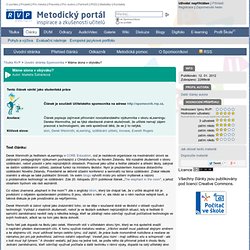 Máme slona v obýváku?
Text článku: Derek Wenmoth je ředitelem eLearningu v CORE Education, což je nezisková organizace na mezinárodní úrovni se zabývající pedagogickým výzkumem pocházející z Christchurchu na Novém Zélandu. Má rozsáhlé zkušenosti v oboru vzdělávání, neboť působil v jeho nejrůznějších oblastech. Pracoval jako učitel a ředitel základní a střední školy, zabýval se dalším vzděláváním učitelů, zastával funkci na ministeriu školství. Nyní je prezidentem Asociace distančního vzdělávání Nového Zélandu.
3 Great Ways to Use Google+ Hangout to Learn & Connect
by Seth Odell Starting the new year off with a bang, Hack Education's Audrey Watters joins the program to break down what's in store for education technology in 2012. Covering everything from e-books to badges and gamification, Watters spills on what's to come, as well as why we need to better evaluate the very criteria we use to evaluate #edtech success. Thanks to our Sponsors! OmniUpdate is the leading web content management system (CMS) provider for higher education.
The State of #EdTech in 2012
Picnik and Other Discontinued Google Services
If you thought that Google will no longer close other projects this year, you were wrong. Picnik, one of the best online photo editing service, will no longer be available starting from April 20. Until then, you can use all the features from the paid version of Picnik for free.
Guide to Using Free Apps to Support Higher Order Thinking Skills
Why Google is ditching search | Digital Media
There has been a huge maelstrom about Google integrating Google+ into its search links . And it all misses the point. Twitter and others are complaining that Google is throwing its massive 65 percent plus market share weight around and quashing smaller competitors. The reason Twitter and others are so threatened is that the pattern of shared links within Google+ provides a decent enough indicator as to what links are interesting.
74 Interesting Ways to Use Google Forms in the Classroom
Online Icon Maker
Photo Pin : Free Photos for Your Blog or Website via Creative Commons
Google Search has always been about finding the best results for you. Sometimes that means results from the public web, but sometimes it means your personal content or things shared with you by people you care about. These wonderful people and this rich personal content is currently missing from your search experience.
Search, plus Your World
Learning Problems and Consultation Based Curricula