Technology 'How-To's' for Teachers
Your newspaper styled homepage. Tech Tips for Teachers. Google Tools. Your newspaper styled homepage. Toefl structure practice. Hello. The New Way Doctors Learn. Turning a medical student into a doctor takes a whole lot of knowledge.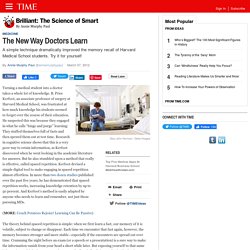 B. Price Kerfoot, an associate professor of surgery at Harvard Medical School, was frustrated at how much knowledge his students seemed to forget over the course of their education. He suspected this was because they engaged in what he calls "binge and purge" learning: They stuffed themselves full of facts and then spewed them out at test time. Research in cognitive science shows that this is a very poor way to retain information, as Kerfoot discovered when he went looking in the academic literature for answers. Dmecinteractive.wikispaces. 5min - Find the best how to, instructional and DIY videos – Life Videopedia.
Free Technology for Teachers. Home.
---