Technology in Education
Free Technology for Teachers. MOOC. 9 Characteristics Of 21st Century Learning. The label of "21st Century learning" is vague, and is an idea that we here at TeachThought like to take a swing at as often as possible, including: –weighing the magic of technology with its incredible cost and complexity –underscoring the potential for well thought-out instructional design –considering the considerable potential of social media platforms against its apparent divergence from academic learning Some educators seek out the ideal of a 21st century learning environment constantly, while others prefer that we lose the phrase altogether, insisting that learning hasn't changed, and good learning looks the same whether it's the 12th or 21st century.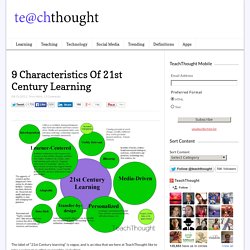 MOOC Mythbuster – What MOOC's are and what they aren't. "Welcome to the college education revolution.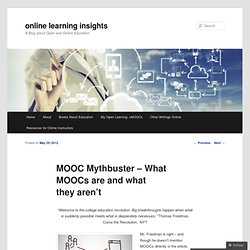 Big breakthroughs happen when what is suddenly possible meets what is desperately necessary." Thomas Friedman, Come the Revolution, NYT Mr. Friedman is right – and though he doesn't mention MOOCs directly in the article, the 'revolution' he is speaking of is in the near future with the launch of edX and Coursera by the Ivy Universities.
20 Amazing iPad Apps for Educators. After the iPod revolutionized how society listened to music and the iPhone pushed the boundaries of smartphone technology, the iPad stands poised to alter the face of mobile computing.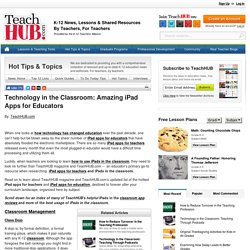 Many have praised its potential to make personal and professional lives that much easier – and that certainly includes the education industry! Teachers with a love of technology and a passion for nurturing the minds of their students can easily discover creative ways to incorporate iPad apps for teachers into their daily routine, and some of these great educational and organizational applications are bound to help them get started. Teacher's Assistant Pro Perfect for busy teachers, Teacher's Assistant Pro allows users to track students' behaviors, infractions, and achievements quickly and easily. Incidents on student behavior and achievement can be documented in real time and reports can be sent to parents and administrators instantly via email. Bloom's Apps - 21nnovate.
Ten Ideas for Teaching Teachers Technology. I had never been to an "unconference" before, but when I heard the organizer of SocialEdCon Unconference introduce the event, I knew I was in for something new: "Write your ideas that you want to discuss on the top of the poster board.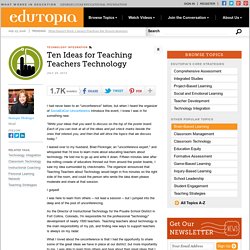 Each of you can look at all of the ideas and put check marks beside the ones that interest you, and then that will drive the topics that we discuss today. " Critical Evaluation. Writing with Google Docs: Foster Collaboration & Creation (While Addressing Common Core)
At ISTE, I had the pleasure of presenting in the Google theatre on Writing with Google Docs.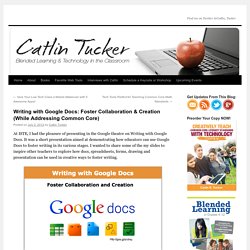 It was a short presentation aimed at demonstrating how educators can use Google Docs to foster writing in its various stages. I wanted to share some of the my slides to inspire other teachers to explore how docs, spreadsheets, forms, drawing and presentation can be used in creative ways to foster writing. Just some general info on Google Docs… Google Documents is a great tool to facilitate collaboration. Flip Any YouTube Video into a Lesson with TED-Ed Tools. The folks at TED talks recently launched TED-Ed to serve the mission "of capturing and amplifying the voice of the world's greatest teachers.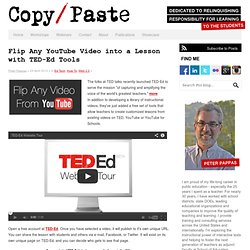 " more In addition to developing a library of instructional videos, they've just added a free set of tools that allow teachers to create customized lessons from existing videos on TED, YouTube or YouTube for Schools. Open a free account at TED-Ed. Once you have selected a video, it will publish to it's own unique URL. You can share the lesson with students and others via e-mail, Facebook, or Twitter. Home - Mahara. Story Starters. iPhone/iPod.
Can Innovation Skills Be Learned? The "DNA" of innovators might be considered a set of skills that are essential elements in design thinking.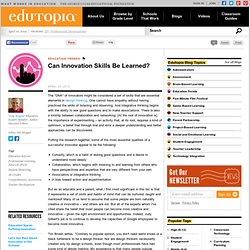 One cannot have empathy without having practiced the skills of listening and observing. And integrative thinking begins with the ability to ask good questions and to make associations. There is also a kinship between collaboration and networking. [At the root of innovation is] the importance of experimenting -- an activity that, at its root, requires a kind of optimism, a belief that through trial and error a deeper understanding and better approaches can be discovered. Putting the research together, some of the most essential qualities of a successful innovator appear to be the following:
Learningcanbefun - English Resources. BookSource - provides a way for classroom teachers or districts to organize their books.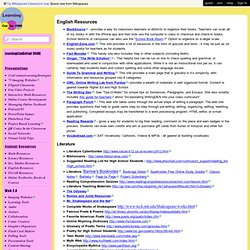 Teachers can scan all of my books in with the iPhone app and then kids use the computer in class to checkout and check-in books. School districts or campuses can also use the "School Book Room" Option to organize on a larger scale.English-Zone.com: This site provides a lot of resources in the form of quizzes and tests - it may be just as (or more) useful for teachers as for students.Fact Monster: This handy site also includes help in other subjects (including Math).Ginger, "The Write Solution" - This helpful tool can be run on line to check spelling and grammar, or downloaded and used in conjunction with other applications. Powerpointgames - PowerPoint Game Templates. TheirSpace: Educating Digitally Ethical Teens. COERLL | Center for Open Educational Resources and Language Learning. eComma (aka "The eCommentary Machine") is a web application that enables groups of students, scholars, or general readers to build collaborative commentaries on a text and to search, display, and share those commentaries online in a more pliable form than has previously been available.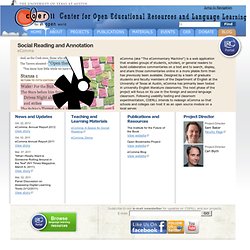 Designed by a team of graduate students and faculty members of the Department of English at the University of Texas at Austin, eComma has primarily been tested in university English literature classrooms. The next phase of the project will focus on its use in the foreign and second language classroom. Following usability testing and classroom experimentation, COERLL intends to redesign eComma so that schools and colleges can host it as an open source module on a local server. Snapify - A Tool to Quickly Find Definitions and Related Websites. Art. 100+ Google Tricks That Will Save You Time in School – Eternal Code.
[via onlinecolleges.net] With classes, homework, and projects–not to mention your social life–time is truly at a premium for you, so why not latch onto the wide world that Google has to offer?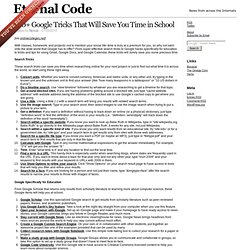 From super-effective search tricks to Google hacks specifically for education to tricks and tips for using Gmail, Google Docs, and Google Calendar, these tricks will surely save you some precious time. The Entire Guide to Google Search Features for Teachers and Students. The Entire Guide to Google Search Features for Teachers and Students is the third ebook I am publishing here exclusively for Educational Technology and Mobile Learning readers. After the success of 80 Alternatives to YouTube and The Comprehensive Guide to Google Free Tools in Education, I am expecting my readers to find this guide of the same importance if not more.
Here is an excerpt from its introduction : "As educators Google is the backbone of our online activities. Think of how many times you use it to perform a search whenever you are looking for something. Besides using it for search queries , it is also used as a dictionary, unit and currency converter, CEP 416. 2.0 New Technologies. Ed Tech. Tools For Educators. ICT. Integrating Technology into Teaching.
Instructional Design. Sheringham Primary iPad Developments. ACMI Generator. Design pédagogique / Instructional Design. Haiku LMS | The K12 learning management system |
Home. Technology in the Classroom Blogs. iPads in Education. Technology in the Classroom | Technology Integration Ideas that Work. Technology has become integrated in the classroom in so many ways, that we often don't even think about how we are using it. The Education World Tech Team offers lessons and activities to help educators make better use of technology tools for instruction, and to help students improve their technology skills within the context of the regular curriculum. Included: Integration activities that utilize the Web, PowerPoint, Excel, digital photography, SMART Boards, and more.
In more and more schools today, technology is recognized as an instructional tool, not as a subject of instruction. Still, many educators, less familiar and less comfortable with technology than their students, struggle to seamlessly integrate a growing list of technology tools into their regular curriculum. Education solutions. High School Smartboard Lesson.
Math Forum - Technology in Math Education. Issues in Math. Classroom Tech Learning, Education, PC, Mac, iPad, Bloom's Taxonomy – Techlearning.com. Technology Integration. How Twitter can help teachers connect with students — and each other. This post was written by Liz Perman, an editorial project manager for SmartBrief. Hundreds of educators from international schools around the world came to Nice, France, for the European Council of International Schools annual conference from Nov. 17 to 21. Teachers everywhere are grappling with how to integrate social media into their lesson plans, and many seem skeptical of the appeal of Twitter, let alone how it could be used for educational purposes. In her session, "Cure What Ails You: A Dose of Twitter for Every Day of the Year," Kathy Schrock, director of technology for Nauset Public Schools in Orleans, Mass., walked educators through the basics of Twitter (see her presentation if you could use a tutorial as well) before outlining the specific benefits of Twitter for educators.
Schrock recommends that educators think of Twitter as another venue for professional development. She suggests that educators search Twitter for like-minded professionals to follow and interact with. eJMT - Aims & Scope. Evolving technological developments have prompted mathematical researchers, educators, as well as practitioners of mathematics to use experimental approaches in their respective investigations. With new technology, many exciting and attractive opportunities have been and will be created for those students who enjoy mathematics and technology.
The eJMT strives for publishing quality papers to convey to the readers that Mathematics and its applicable fields can be made to be Fun, Accessible, Challenging and Theoretical (FACT). Using a classroom webpage to communicate with parents. Tablettes. How to check an email's validity - 180 Technology Tips #143. iPad - Download free content from Blue Valley Unif Sch Dist 229.
Don't Just Stand By App Contest. Teaching Parents and Others About Passwords. A Community Collaborates to Focus on Literacy for English Language Learners (ELL) QR Codes Explained and Ideas for Classroom Use. Copyright, Plagiarism, and Digital Literacy (by Sue Lyon-Jones.
---