RoR - Ruby on Rails
ruby-amqp/amqp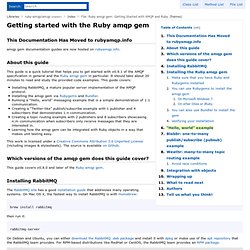 File: Ruby amqp gem: Getting Started with AMQP and Ruby — Documentation by YARD 0.7.5
This Documentation Has Moved to rubyamqp.info amqp gem documentation guides are now hosted on rubyamqp.info. About this guide This guide is a quick tutorial that helps you to get started with v0.9.1 of the AMQP specification in general and the Ruby amqp gem in particular.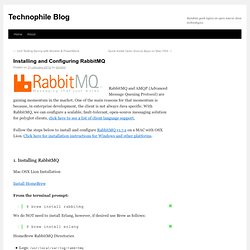 Activating RabbitMQ plugins ... 12 plugins activated: * amqp_client-0.0.0 * mochiweb-1.3-rmq0.0.0-git
Installing and Configuring RabbitMQ | Technophile Blog
This Documentation Has Moved to rubyamqp.info amqp gem documentation guides are now hosted on rubyamqp.info. About this guide This guide covers everything related to queues in the AMQP v0.9.1 specification, common usage scenarios and how to accomplish typical operations using the amqp gem. This work is licensed under a Creative Commons Attribution 3.0 Unported License (including images & stylesheets).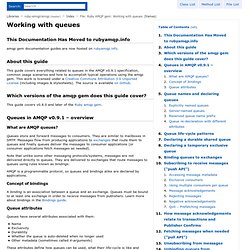 File: Ruby AMQP gem: Working with queues — Documentation by YARD 0.7.5
message queue - ActiveMQ or RabbitMQ or ZeroMQ or
Locomotive — Ruby on Rails Open source CMS
Ruby on Rails CMS that supports Rails 3 - Refinery CMS
Ruby 1.9 Encodings: A Primer and the Solution for Rails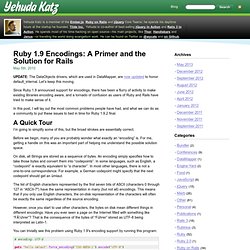 May 5th, 2010 UPDATE: The DataObjects drivers, which are used in DataMapper, are now updated to honor default_internal. Let's keep this moving.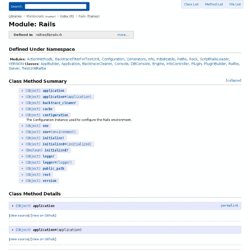 Module: Rails — Documentation by YARD 0.7.2
Defined in:
Actually this post is not so much about just building custom validators for Rails 3 but more like a in-depth introduction to how validations work in the old and new versions of rails. And in addition to that I'm going to implement Rails 3 compatibility for the validates_existence gem, which we maintain and use extensively in our projects. The "old" stuff First I'm going to give you a quick overview of the gems current functionality, plus basic explanation of how it's implemented. The gem itself contains a single validation – validates_existence_of, which validates belongs_to relations by making a query to the database and checking if the record actually exists.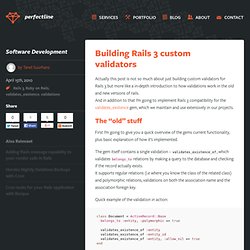 Building Ruby on Rails 3 custom validators | PerfectLine Blog
by Joel Spolsky Wednesday, October 08, 2003 Ever wonder about that mysterious Content-Type tag?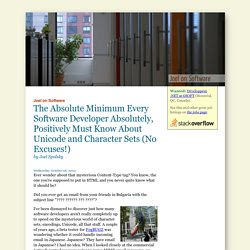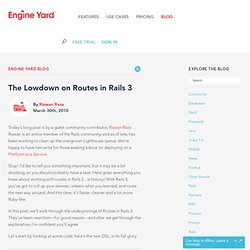 The Lowdown on Routes in Rails 3 | Engine Yard Ruby on Rails Blog
Today's blog post is by a guest community contributor, Rizwan Reza. Rizwan is an active member of the Rails community, and as of late, has been working to clean up the overgrown Lighthouse queue. We're happy to have him write for those seeking advice on deploying on a Platform as a Service. Stop!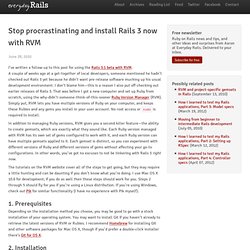 June 28, 2010 A couple of weeks ago at a get-together of local developers, someone mentioned he hadn't checked out Rails 3 yet because he didn't want pre-release software mucking up his usual development environment. I don't blame him—this is a reason I also put off checking out earlier releases of Rails 3.
Stop procrastinating and install Rails 3 now with RVM
July 05, 2010 I believe that Rails is an excellent way to get started on server-side web development. The framework provides a good structure that's easy to understand, and provided you follow some fairly basic rules, you can have a functioning web application up and running pretty quickly. Add to that the gems and plugins that add near-instant functionality, and even newcomers can show off useful, good-looking web apps. Clicking through links and forms on an app you made yourself feels pretty good and should hopefully motivate you to want to do more.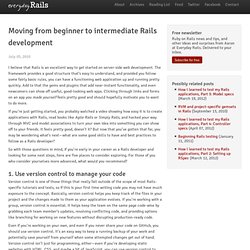 Moving from beginner to intermediate Rails development
The semantics of method calls in Ruby are simple: Call the named method; orIf no method exists, call #method_missing() instead. Normally #send() obeys these rules as well. ActiveRecord association proxies mangle #send()'s semantics, however, violating the POLS and potentially breaking your code in the process. Let's say we have some monsters: class Monster < ActiveRecord::Base has_many :friendships has_many :friends, :through => :friendships end class Friendship < ActiveRecord::Base belongs_to :monster belongs_to :friend, :class_name => "Monster" end cookie = Monster.create(:name => "Cookie Monster", :color => "blue") grover = Monster.create(:name => "Grover", :color => "blue") oscar = Monster.create(:name => "Oscar the Grouch", :color => "green") clancy = Monster.create(:name => "Clancy", :color => "green")
ActiveRecord association extensions and method_missing
Bonjour gem