Techniques, plans et tips
SawDust : Information Technique sur les Combinées à Bois
Explorateur SawDust à propos de... Bienvenue L'objectif de ce site est de présenter des informations techniques aux amateurs du travail du bois sur les machines combinées, leurs améliorations, les accessoires faits maison et projets ainsi que quelques méthodes qui y sont liées. Cliquer sur le Dossier en haut à droite vous offre l'opportunité de naviguer facilement ainsi que d'effectuer des recherches rapides parmi les nombreux documents comme vous pourriez le faire sur votre propre micro-ordinateur. Le document sur les cadres et plate-bandes ou encore la réalisation de tiroirs pourraient aussi être un bon endroit pour commencer la lecture encore que les liens internes contenus dans les pages pourraient bien vous conduire profondément dans les gabarits et les améliorations de la combinée.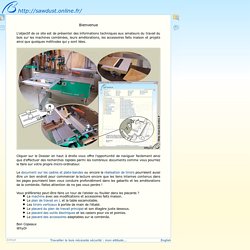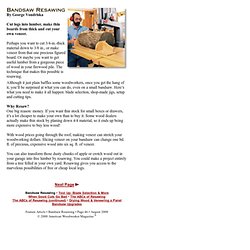 Although it just plain baffles some woodworkers, once you get the hang of it, you'll be surprised at what you can do, even on a small bandsaw. Here's what you need to make it all happen: blade selection, shop-made jigs, setup and cutting tips. Why Resaw? One big reason: money.
American Woodworker: Project of the Month: Bandsaw Resawing
SoloWoodworker - Woodworking and other individual craft business
Almost 10 years ago I retired early to become a custom furniture maker. But for over 60 years I have been a "hobby" woodworker, fixing up homes and building things for friends and family. People saw my work and for the last 15+ years asked me to build things for them.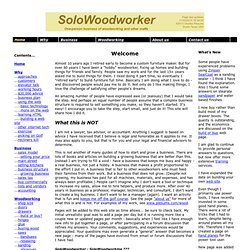 History of woodworking; includes extensive glossary, documents, and other textual materials and images of woodworking's history, especially amateur woodworking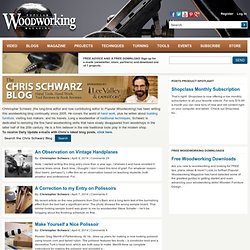 Note: I started writing this blog entry more than a year ago. I shelved it and have revisited it several times since. Each time, I thought: I don't need this kind of grief. For whatever reason (four beers, perhaps?), I offer this as an observation based on teaching students, both amateur and professional.
Woodworking Projects, Plans, Techniques
Home of fine antique tools & stanley planes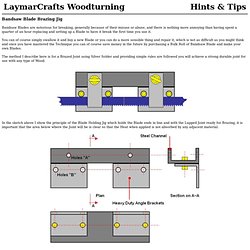 Bandsaw Blades are notorious for breaking, generally because of their misuse or abuse, and there is nothing more annoying than having spent a quarter of an hour replacing and setting up a Blade to have it break the first time you use it. You can of course simply swallow it and buy a new Blade or you can do a more sensible thing and repair it, which is not as difficult as you might think and once you have mastered the Technique you can of course save money in the future by purchasing a Bulk Roll of Bandsaw Blade and make your own Blades. The method I describe here is for a Brazed Joint using Silver Solder and providing simple rules are followed you will achieve a strong durable joint for use with any type of Wood.
Laymar Crafts
Peter's Woodworking Links
Born in the mind of Joseph F. Emmert in the 1880's, the Emmert patternmaker's vise has become world renowned. Patternmakers, woodworkers and machinists would agree that this Emmert invention is the most versatile work holding device available. The Emmert patternmakers vise has the unique ability to not only hold the work piece but to change positions without releasing it. You merely release a handle and rotate the vise and the work piece. Adjust another handle and flip the work piece onto the bench top still being held by your Emmert.
The Iron Hand - Emmert Vises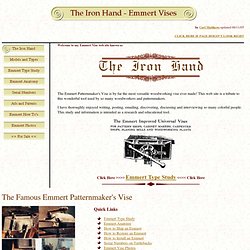 Union Hill Antique Tools, Old Tools, Collectible Tools, Hand Tools
Workbench Design Home Page
Workbench Plans, Reader's Benches, Free Workbench Plans and New Ready Made Benches Bargain Woodworker's Vise? March 21th, 2012. I read a review of this vise in American Woodworker Magazine. It seems that Northern Tool has found a way to import and sell an inexpensive 9" vise for a very low cost: $29.99. From the photos, indeed the castings don't look all that great, but the review is pretty positive and so, I'm curious.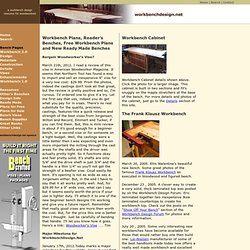 Results -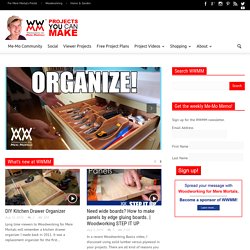 "I hear you have some tools. Wanna teach some kids?" If you do even a little bit of woodworking and you have young children, there may come a time when their after-school group, cub scout or girl scout group will ask you to teach a short woodworking class.
Pantorouter
the Carpentry Way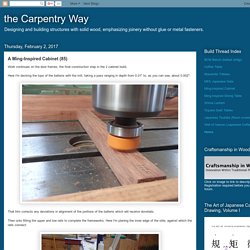 Well, I pulled the trigger and have purchased a used Shinx 3XV-360 Super Surfacer in Japan. Here are some pictures of the exact machine I bought: The machine comes with the factory side tables and tool kit. It has been completely gone-through by the machinery rebuilding company I am dealing with and is in excellent condition.
In The Woodshop
I live in Perth, Australia where I have specialised in paediatric clinical psychology for the past 25 years. The woodshop is where I recharge my batteries. I am drawn to handtools, their design and use. I have machines for roughing out, however I prefer handtools for joinery, shaping and finishing, and attempt to use traditional vintage methods and techniques. Join me here in the trials and tribulations of some of my furniture builds.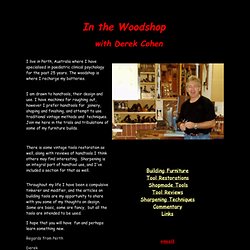 OK, I Admit It... That was a sensational hook to get you in, just like the titles on a magazine cover that promise to dispense the deep secrets of various woodworking topics. I wanted to post one more entry on social media before I get back to sharing woodworking.
Welcome to Kelly Mehler's School of Woodworking
Should I Build or Buy a Workbench? | The Wood Whisperer
Over the last week, I have received this question three or four times. Clearly, people are torn up about building vs buying their workbench. I am certainly no authority on workbenches, but I like to think I bring a little common sense to an area polluted by romantic notions of tradition. So let's dig in. In my woodworking career, I've constructed exactly two workebenches. My first one was what I called my "Home Depot Special".
Sawmill Creek - Powered by vBulletin
Popular Woodworking
For the last few decades, I've kept one indispensable tool readily available in my shop – glue sticks. Basically, they are milled material about 2″ thick and around 4″ wide (in my shop they were always made from hardwood because there was always plenty of scrap) that is cut to approximately 3′ in length.... On May 7, 2014, we're going to give you a chance to act like an editor for Popular Woodworking Magazine for the evening. That's right, we're going to let you (and a limited number of other folks) come into the workshop here at the magazine and test some of the newest tools from Senco.... The June issue of Popular Woodworking Magazine mails to subscribers (both print and digital) on or around this Thursday. We're short a managing editor at the moment and extras fall into the purview of that role, but through a combination of caffeine, little sleep and unconquerable anal-retentiveness, I've managed to get almost all of...
Old Street Tool, Inc. - Plane Articles
Chisels | WoodTreks
www.ukworkshop.co.uk - The site for woodworkers - Woodworking
Norse Woodsmith | Woodworking Tools and Projects
Roubo-Project201.jpg (Image JPEG, 900x600 pixels)
Daiku Dojo -- Japanese Woodworking Group
The Renaissance Woodworker - Download free podcast episodes by Shannon Rogers on iTunes.
Free Woodworking Plans, Projects, Patterns and Resourceful Information
Welcome to Australian Woodsmith
Woodworking with The Wood Whisperer – iPod - Download free podcast episodes by blip.tv on iTunes.