Technique
Learn to Draw - Graphite Pencil Drawing Tutorial. Work In Progress Title: "Inner Beauty" Size: 18" x 14" Medium: Charcoal, Graphite, Carbon on White Paper Step One: I am using charcoal for the background and graphite for the subject.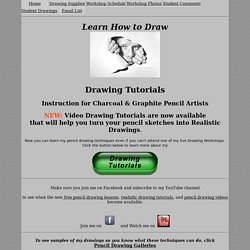 I'm using Arches 140 lbs hot press watercolor paper for this drawing. This is one of my favorite papers. Pastel Techniques: Lessons, Tutorials, and Resources. Using Pastels -- Bob Davies provides a series of articles to help you better understand the different types of pastels, blending tools, fixatives, and pastel papers that are available.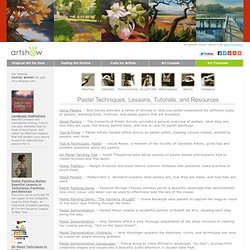 About Pastels -- The Connecticut Pastel Society provides a general overview of pastels: what they are, how they are used, the history behind them, and how to care for pastel paintings. Tips & Tricks -- Pastel Artists Canada offers advice on pastel safety, keeping colours vibrant, exhibiting pastels, and more. Tips & Techniques: Pastel -- Ursula Reese, a member of the Society of Canadian Artists, gives tips and answers questions about dry pastels. Oil Pastel Painting Tips -- Sarah Theophilus talks about various oil pastel brands and explains how to create textures and fine detail.
Pastel Pratfalls -- Margot Schulzke discusses twelve common mistakes that pastelists make and how to avoid them. How to Draw Hands. DIY Laser Show: Number 7. Still Life Demonstration by Georgiana Cray Bart. TL;DR. The second bit of advice a beginning artist usually gets is "draw from life".
And it is excellent advice! After all, if you can't draw what is right in front of you, you certainly won't be able to draw what you see in your imagination either. Pastel Techniques: Lessons, Tutorials, and Resources. Pastel tutorial, How to Draw with Pastels. Index>drawing tutorials >pastel tutorial I am using Faber-Castell Pitt Pastel pencils and Rembrandt stick pastels for this tutorial.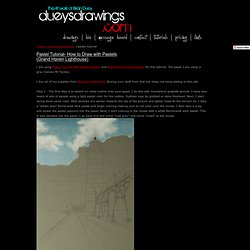 The paper I am using is gray Canson Mi Tientes. 5-Pencil Method - Home. Pencil Portrait Drawing - Learn to draw faces. INKING ART LESSON. Pen and Ink Drawing Lessons Art Books Online How to Draw Watercolors Oil Painting Lessons When I first got serious about cartooning for a career, one of the things I was most concerned about was inking.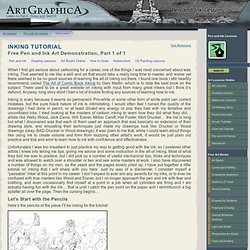 That seemed to me like a skill and art that would take a really long time to master, and worse yet there seemed to be no good sources of learning the art of inking out there. I found one book I still heartily recommend, called The Art of Comic Book Inking by Gary Martin, which is to date the best book on the subject. Tonal value. Painters do not have the apparatus problems of a photographer, but they do face a similar value design problem: anchoring the middle value of a painting in a way that communicates the intended feeling of light or dark without sacrificing a complete representation of the tonal range.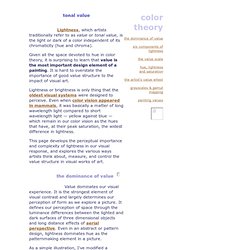 Our visual system naturally adjusts to the average luminance in our environment to produce the best visual representation. Because this adaptation also affects the appearance of any physical gray scale, the key to the value design of a painting lies in the distribution of gray values across the luminance range. What should this distribution look like? The diagram at right shows a basic value plan that can serve well in thinking about the value range of any painting. Drawing Hair in Pencil. By Maery Drawing hair is hard work.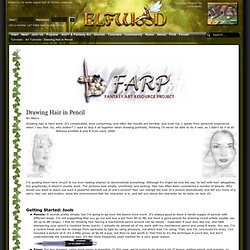 It's complicated, time consuming, and often the results are terrible, and trust me, I speak from personal experience when I say that. So, why bother? I used to skip it all together when drawing portraits, thinking I'd never be able to do it well, so I didn't do it at all. 30 Watercolor Tutorials and Brush Sets for Photoshop - StumbleUpon. Through the use of brushes and various combinations of often pastel and neutral colors, creating that digital watercolor style in Photoshop can be a fun and rewarding experience.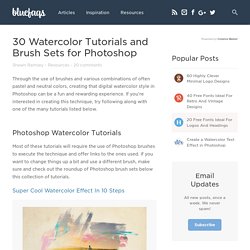 If you're interested in creating this technique, try following along with one of the many tutorials listed below. To help you gather resources, I've also included 15 of some of the best Photoshop watercolor brush sets available, located just below the tutorial roundup. Enjoy! Photoshop Watercolor Tutorials In an effort to only bring you the best watercolor tutorials available, I spent quite a bit of time hunting down the collection below. Sight Size Drawing Method. Sight-size or right-size drawing is a traditional method of observing the subject, still taught in classical ateliers.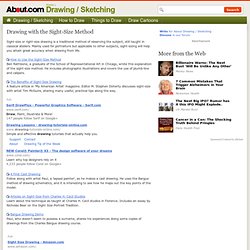 Mainly used for portraiture but applicable to other subjects, sight-sizing will help you attain great accuracy when drawing from life. How to Use the Sight-Size MethodBen Rathbone, a graduate of the School of Representational Art in Chicago, wrote this explanation of the sight-size method. Online Fine Art Instruction in Drawing, Painting, Pastel, Charcoal, and Lessons in Color Theory, Space and Composition. What I Believe/Don't Believe About Art: - "Talent" is basically a myth.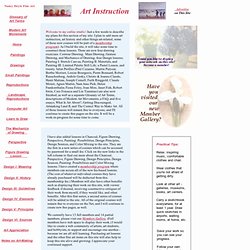 I believe that sensitivity, inspiration, hard work and conviction are much more important in producing. The Mechanics of Fine Art Drawing, Practical Tips - Nancy Doyle, Professional Artist. Exercise 4 - The Mechanics of Drawing A certain amount of drawing is mechanical in nature; that is, it is done more on the conscious level, and even in the left, or analytical, side of the brain.
Therefore, this part is a little easier and faster to learn, because it consists of practical, more easily comprehended steps. And it involves manual dexterity, eye/hand coordination, and simple practice; and is more objective, less subjective. Perspective. The Rules of Perspective Christopher W. Tyler Introduction Linear perspective has a history going back at least to Aristarchus, a scene painter for Aeschylus in the 4th century BC who astonished his audience, including Plato, with his realistic depiction of depth by size reduction in the spatial layout of buildings. This Greek expertise was transmitted to the Roman Empire in the accurate central vanishing points in evidence in the wall-paintings of Pompeii, for example. Musings and articles. The Sight Size Method of Painting | Enriching Your Life With Art. By Melody on November 23rd, 2010 Still life arranged for sight size method in Melody Phaneuf's studio. The painting table on right shows the proper distance from the arrangement and easel for the Artist to stand.
Attempting to paint the visual impression from nature is akin to putting together a puzzle. It's much easier when you have an image of the whole. Whether it's a portrait, landscape, or still life, I stand way back from what I'm painting in order to picture the entire composition. Learn to Draw. Learn how to draw what you see, with these step by step beginner drawing lessons. Discover essential drawing skills from how to hold a pencil through to perspective, pencil shading, and sketching. Progress into portraiture and figure drawing.
Learn About Drawing Mediums You can start learning how to draw with just some scrap paper and a number two pencil. It really is that simple. Drawing Lessons - Cennini Forum. Lackadaisy Expressions. Colors – Ultra Soft Artists' Painting Pastels. The Artwork of Timothy David Mayhew.
---